YJA Star guerrillas: April 4th is no ordinary day
On April 4, Abdullah Öcalan turns 71 years old. Fighters of the women's guerrilla army YJA-Star declare that this day is the birth of the determination to crush oppression and exploitation.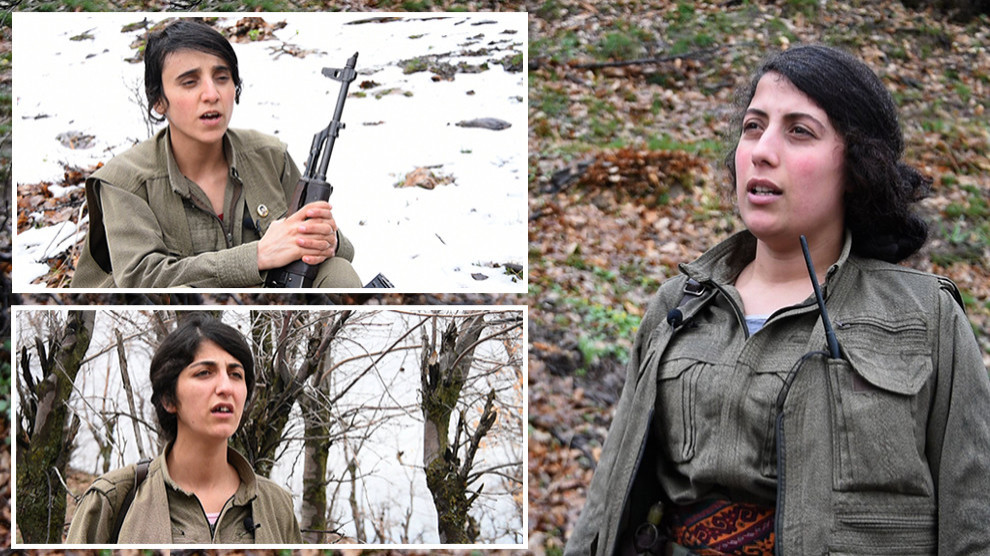 ANF talked to fighters of the women's guerrilla army YJA-Star in the embattled Xakurke region of South Kurdistan. Xakurke is part of the Medya Defence Zones protected by the guerrilla, which Turkey has been trying to occupy since last year.
ANF correspondents asked the YJA-Star fighters about the meaning of April 4, the birthday of Abdullah Öcalan, for them. Abdullah Öcalan has a great importance especially for the Kurdish women's freedom movement, because he created the gender liberating paradigm of the PKK, which analyses the struggle against patriarchy as the main contradiction and central crux in the struggle for liberation.
Bêrîvan Keraşi said: "That we are here as young women with the guerrilla and that we are fighting as a women's guerrilla army is the work of Leader Apo [Abdullah Öcalan]. We fight on the basis of his philosophy and the power of his thinking. He has shown us the way to the liberation of women. Therefore, the birthday of the architect of our great resistance and our free future has a great significance. On this occasion, we renew our pledge of resistance."
The awakening of hope for freedom
Guerrilla fighter Ciwana Destan said: "Leader Apo has created the preconditions for our women's resistance. For us, April 4 is the day of renewal, of the new sprouting of freedom. We see this day as a rebirth of the hope of the people of Kurdistan for freedom, which will blow all the concrete poured over Kurdistan to pieces. We see April 4 as the day when the determination to raze the colonialism and slavery of the Kurdish people to the ground was born. Therefore, it is important for us to become comrades of Leader Apo. During the last visits [to Imrali] he reminded us that the isolation can be broken through by our resistance and that the responsibility lies with us. We will certainly live up to this responsibility."
The resistance will shape the whole process
Axîn Şemzînan, also a fighter of the YJA Star, stressed that: "April 4th is a new morning for us. As the Kurdish people and movement, we are in a challenging process. The enemy is trying to destroy us with all its might. We are resisting with great determination. Our resistance will shape the whole process. That's what Leader Apo said. Therefore, we will use his birthday as an opportunity to strengthen, develop and expand our resistance everywhere."