YJŞ fighters in Raqqa support Shengal's autonomy
Fighters of the Shengal Women's Units (YJŞ), who are fighting against the ISIS gangs in Raqqa, have expressed their support for Shengal's Democratic Autonomy Project.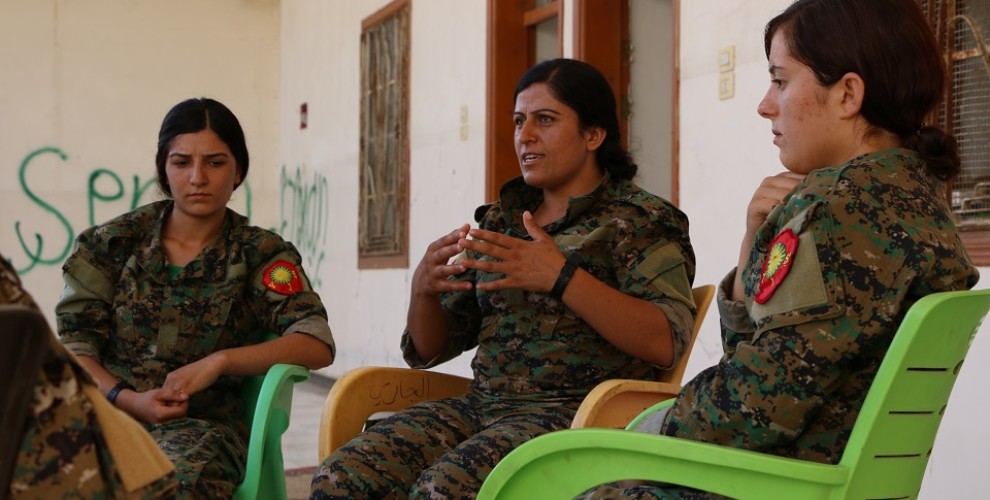 Shengal Women's Units (YJŞ) fighters who are actively engaged in the Great Battle for Raqqa for more than two months now to rescue and avenge the women and children of Shengal, fighting alongside Women's Defense Units (YPJ) and the Syrian Democratic Forces (SDF), have announced their support for 'Democratic Autonomy Project of Êzidîxan' that was declared on August 20.
The 23-point road map and basic principles for democratic autonomy was declared at a press conference stated that: "Since 14 January 2015, our Êzidî people desire an autonomous life in which decisions concerning themselves will be made by their own assemblies and the self-defense force to protect them against attacks will be affiliated to this assembly. They reject the fight for domination over Êzidîxan. In this regard, we submit the democratic autonomy project, which our people consider a must, to the appreciation of all political powers, concerned states, international powers and the Kurdish public opinion. We expect all those responsible powers to support the democratic autonomy structure that will lead Êzidîxan to a free and democratic life through an improvement of this project with necessary contributions."
YJŞ fighter Têkoşîn Şengal said the following regarding the declaration of autonomy in Shengal: "Shengal's people have faced many massacres and genocides. In our present day it is a must for Shengal to have an autonomous administration and an own defence force, in order that the massacres of 3 August 2014 will not be lived through again. During the genocide of August 3, which I witnessed with my own eyes, neither the Regional Government of Southern Kurdistan, nor the Iraqi government put up the slightest effort to protect the Êzidî people against the ISIS attacks. Instead they threw us under the bus."
YJŞ fighter Ariya said: "We are convinced that Shengal's people will achieve true independence with the Democratic Autonomy project, come up with a solution to all their problems and form their own defense against enemies' attacks."
Berxwedan Dilgeş voiced her opinion as follows: "We congratulate the declaration of the Democratic Autonomy project on Leader Apo, our martyrs and all the people of Êzîdxan. The role of the Êzidî women in Democratic Autonomy is a huge victory for us. The women of Êzîdxan are fighting in Raqqa today to avenge their people."
Têkoşîn Şengal also said: "We call upon all the Êzidî people and the world to support the Democratic Autonomy declared in Shengal. Those Êzidîs who were forced to leave their lands should stand by their people. As YJŞ fighters we congratulate the Democratic Autonomy of Shengal."