Yazidi women call for action for Leyla Güven
Yazidi women in the Afrin canton saluted DTK Co-chair Leyla Güven, who was imprisoned in Turkey recently, and said, "Human rights organizations should act against the decision."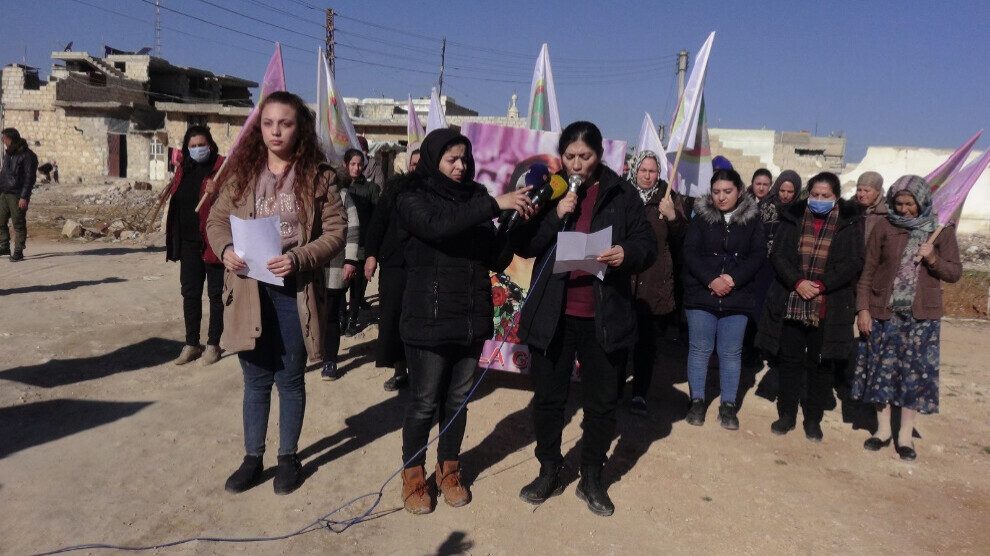 Yazidi Women's Union protested the arrest of Democratic Society Congress (DTK) co-chair Leyla Güven in Turkey. Members of the Yazidi Union in Ehdas district of Shehba also participated in the press briefing.
Co-chair of the Yazidi Women's Union of the Afrin Canton, Eyşo Hiso, read out the statement in Arabic, and the Union member Orivan Menan in Kurdish:
"In common life with other peoples, every folk has its own culture and ideology. These are what we must have in order to establish a system based on democratic system based on the fraternity of peoples, women's freedom and social freedom. However, the fascist Turkish state led by Recep Tayyip Erdogan and the AKP are violating democracy and justice, trying to destroy freedom, denying equality, and arresting dissident journalists and politicians. HDP is fighting for democracy and the freedom of the peoples against all these.
Leyla Güven is an example of a free woman. She started a hunger strike with hundreds of her friends in prison to end the isolation imposed on Leader Abdullah Öcalan, and this action achieved its goal. However, the Turkish state continues its brutal policies against all opponents. It sentenced Leyla Güven to 22 years in prison in an attempt to break the will of Kurdish women.
We strongly condemn this sentence. We call on human rights organizations to take action against this decision."