Yazidi activists greet March 8 with female hunger strikers
Yazidi women holding a hunger strike in front of the Council of Europe (CoE) in solidarity with the resistance against the isolation met with women on the indefinite non-alternating hunger strike for March 8 and concluded their protest.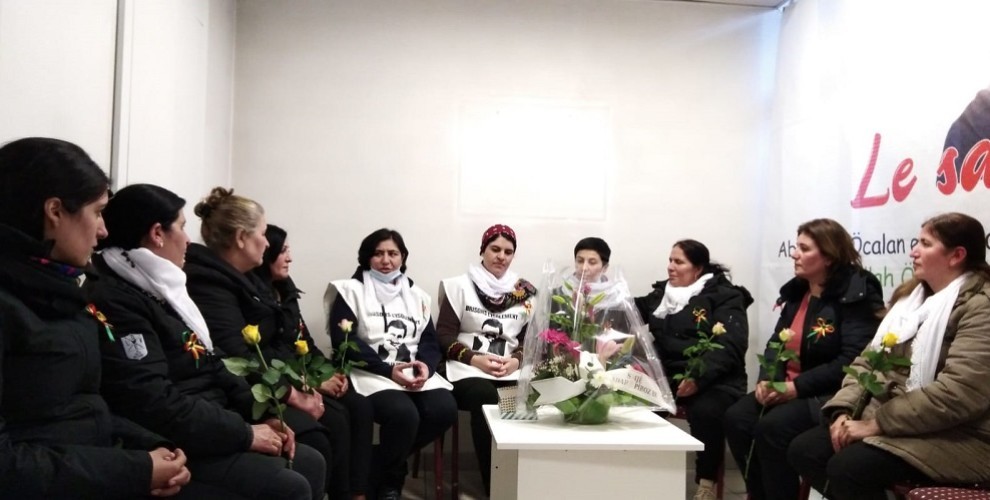 A five day long hunger strike had been launched in solidarity with the indefinite non-alternating hunger strikes protesting the isolation imposed upon Kurdish People's Leader Abdullah Ocalan in the square between the Council of Europe (CoE) and Committee for the Prevention of Torture (CPT) offices in Strasbourg. PYD members held the first 5-day hunger strike starting on February 25, and 7 women from an umbrella organization named Siwana Meclisa Jinen Ezidi (SMJE) took over this week.
Yazidi women ended their protest yesterday evening and visited Dilek Ocalan, Gulistan Ike and Nurgul Basaran who have been on an indefinite non-alternating hunger strike for 82 days. The Yazidi women gave the 3 women in the resistance white scarves, which symbolize peace in Kurdish culture, and stressed that they will continue the resistance against isolation everywhere.
A Yazidi activist spoke in the name of the SMJE and said: "We are with you until there's only one woman left, we will not abandon this protest."
Indefinite non-alternating hunger striker Nurgul Başaran said this year's March 8 is especially important as it coincided with Kurdish women fighting and defeating ISIS barbarism. Basaran pointed out the importance of Yazidi women's support in the resistance against the isolation and said the resistance spreads further every day.
Basaran stressed that the Kurdish people's support for the resistance makes victory closer.
The Yazidi women's visit concluded as the women chanted Jin Jiyan Azadi together.