Workshop on femicide in Qamishlo discuss ways to prevent violence against women
Methods of preventing murder and violence were discussed at the workshop on combating femicide organized by the PYD Women's Council.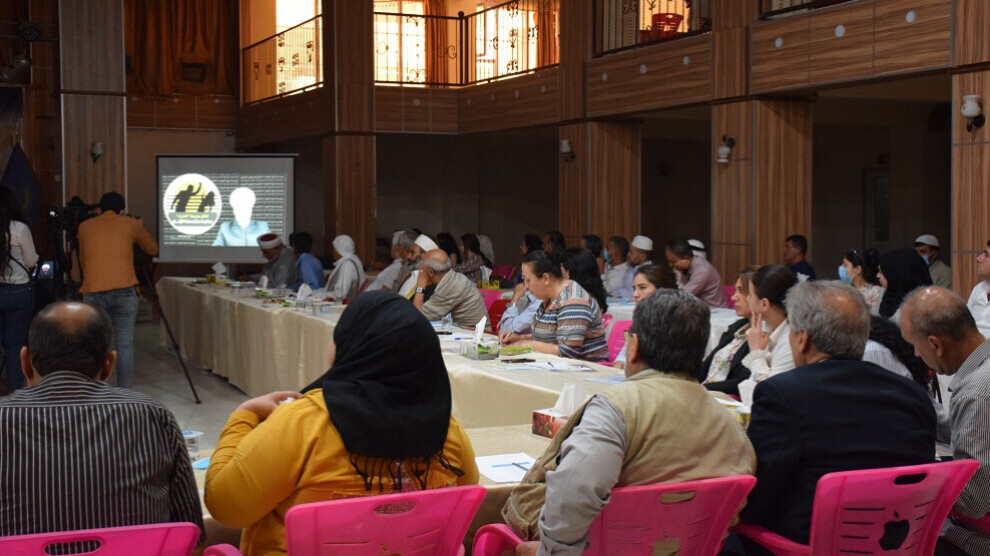 A workshop on combating femicide was organized in Qamishlo by the Democratic Union Party (PYD) Women's Assembly. The first part was dedicated to a discussion on 'Legal solutions for crimes against women' held by lawyers Atiya Yusif and Luqman Ibrahim.
Yusif said: "Domestic violence is the worst type of violence that women are exposed to. This should be banned by the governments. Men often think that they can act against women. What fuels domestic violence is mostly linked to environmental factors that legitimize the violence. When friends and social circles adopt an approach that sees violence as legitimate, men tend to use violence in the family."
Lawyer Ibrahim said that murders committed under the name of honour were regulated in article 548 of the 37th law of the Syrian Constitution, and added that this article was taken from France. However, said the lawyer, this law was abolished in France in 1960 but continues to be implemented in Syria.
Ibrahim stated that according to the law, murderers of women are sentenced to two years in prison.
Ibrahim said that the light sentences given to crimes committed under the name of 'honour' have been changed with the amendment made in 2020 and has increased the penalties for various murders committed under the name of revenge, forced marriage and honour.
After the seminar, the participants shared their views.
The workshop approved the following decisions:
- Unity should be formed between religious institutions, women's movements, non-governmental organizations and media institutions against crimes committed in the name of religion.
- Press institutions should play an important role in raising public awareness.
- Men should be encouraged to attend awareness-raising seminars.
- All religions are against the massacre of women. Therefore, the murder of women in the name of religion is unacceptable.
-Religious institutions, civil society organizations and political parties should fight together for the elimination of customs that harm society.
- Those who commit crimes under the name of 'honour' should be punished in the most severe way.
-The laws of the Autonomous Administration concerning women should be implemented.
- It should be ensured that a culture of democracy within the family is established.
- Leaflets on Islam's view of killings of women should be distributed.