Women start a 3-day hunger strike in Amed against isolation
Support for the Democratic Society Congress (DTK) Co-chair and HDP Hakkari deputy Leyla Güven, continues to grow.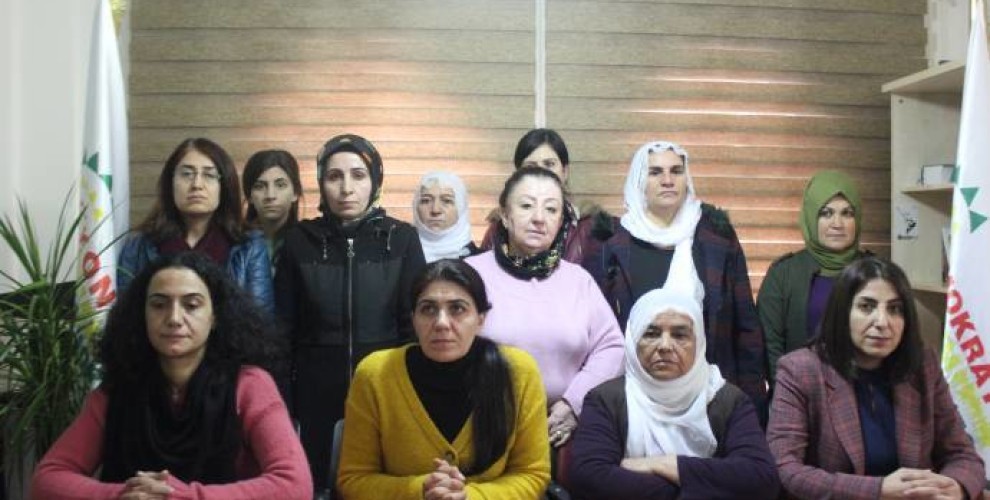 Democratic Society Congress (DTK) Co-chair and Peoples' Democratic Party (HDP) MP for Hakkari, Leyla Güven entered the 33rd day of the indefinite hunger strike she launched in Diyarbakır E-type Prison, where she is held a hostage. She went on hunger strike to demand the lifting of the isolation regime imposed on Kurdish People's Leader Abdullah Öcalan.
Women, activists of DTK, HDP, DBP (Democratic Regions Party) and Tevgera Jinen Azad (TJA) are starting a 3-day hunger strike at the HDP Diyarbakır Provincial Organization today, Monday.
Women held a press conference at the DTK building to detail the action.
Speaking at the meeting, DTK Co-presidency Council member and TJA activist Xecê Şen stated that the isolation imposed on Öcalan is actually imposed on all the peoples and is not acceptable.
She pointed out that Güven is now entering the 33rd day of her hunger strike and added:
"After Leyla Güven began her action, solidarity hunger strikes have been started in all prisons. Anyone who says 'I am human 'and 'I do not accept isolation' and 'I do not accept war' should support this action. As DTK and TJA, we greet all the prisoners of freedom who support this action. Leyla Güven's demands are our demands."
The spokesperson for the DTK Diyarbakır Delegates, Zelal Bilgin said: "On 7 November, Leyla Güven made history in the courtroom. When law and justice were at their lowest point, she began a new era in the resistance by giving everyone a lesson in law and justice."
Bilgin added: "We are going through a period dominated by a single man. Yet, there is a resistance that all the democratic mass organizations must adopt. I'm telling you as a person close to Leyla Güven. She will defeat absolute isolation with faith and determination. Because she is a deputy who tries to enlarge this struggle with the identity of women against the effect of absolute isolation on the peoples of the Middle East."
Bilgin ended her remarks by saying: "There is only one demand, end isolation. We will step up this struggle."
Amed Peace Mother Assembly and DTK Council member Makbule Özbek said that they don't want to get bodies out of prisons and reiterated that actions to end isolation will be taking place everywhere.