Women protest in Silopi against the Turkish government's policy of misogyny and war
The women's movement TJA protested in Silopi against the Turkish government's policy of misogyny and war.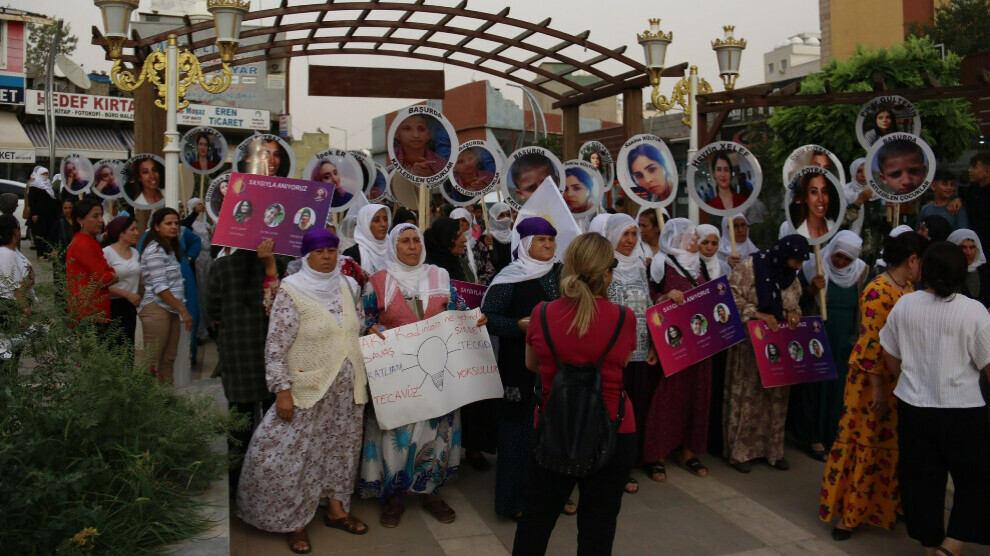 The Free Women's Movement (Tevgera Jinên Azad) protested on Saturday in the district town of Silopi in Şirnak against the Turkish government's policy of misogyny and war. "We defend society against the special war policy and the occupation" read a banner carried by the demonstrators. In addition to members of the TJA and the Peace Mothers initiative, HDP MP Nuran Imir and numerous elected mayors from cities and municipalities in the provinces of Şirnak and Mardin also took part in the demonstration.
Demonstration against the special war against Kurds
The demonstrators carried pictures of women who have been murdered in Turkey or died in attacks by the Turkish state in northern Syria and northern Iraq. A light bulb, the symbol of the AKP, was depicted on a banner under the heading "What has the AKP brought women? War, massacre, rape, violence, isolation, poverty."
Special war against Kurdish women
The demonstration was stopped at the beginning by the police. The women protested with a sit-in and after a moment of tension were able to continue. HDP politician Beybun Aslan said in a speech: "We are here to protest against the war policy. For years, attempts have been made to bring us Kurds to our knees through oppression, repression and violence. That will never succeed, we will not bow."
Aslan continued: "The government wants to stay in power through war and isolation and pursues a policy of systematic assimilation. All military forces have been mobilized for the war against the Kurdish liberation movement. At the same time, a special war is being waged against Kurdish women."
"We want to live freely"
Aslan added: "As Kurds, we want to live freely and fight for equality. The women's struggle thwarts the plans of the rulers. Thousands of Kurdish politicians and activists are in prison. Our fight against the mentality in society based on male domination continues."