Women protest the murder of Pınar Gültekin
Women said that they will continue to fight for murdered Pınar Gültekin in a new demonstration against violence targeting women.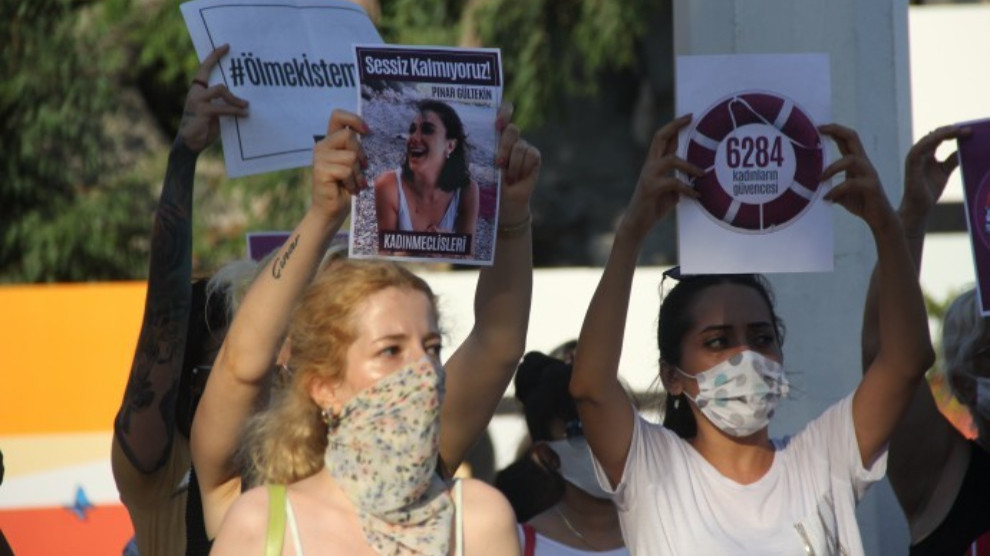 The reactions to the murder of Pınar Gültekin in Muğla continue. Women took to the streets once again and emphasized the importance of the implementation of the Istanbul Convention to stop murders of women.
MERSIN
Women joined the demonstration organised by Women's Councils in Mersin to condemn the murder of Pınar Gültekin. Dozens of people joined the statement made in Özgecan Aslan Peace Square. The statement was read by Özge Çabuk, a member of the Women's Councils, who said that too many women are killed due to the lack of protection measures. "If policies were implemented to protect women, they would be alive now."
Çabuk added: "We are clearly saying that those who produce misogyny policies are complicit in the murders of women. "We won't let the murders of women to be legitimize."
Çabuk continued: "We've said it many times before, we say it again: Protect women, not murderers. Women will live as they wish. Women will not stop until they get their freedom, equality, their lives. We said once again: Don't even think about touching the Istanbul Convention. It is the Istanbul Convention that will keep the many Pınar alive. We will continue to fight for our right to life for Pınar Gültekin and for all women who have been killed."
ADANA
Adana Women's Platform also condemned the murder of Gültekin with a press release. Stating that women want to live, Pelin Çiçek said: "We are not able to breathe because of your male violence. The male mentality that allows men to find the right to kill women in themselves and the policies that will feed this mentality are actually legitimating one another. We protest the government."
Stating that misogynist policies are the reason for the increase in the murder of women and these attacks continue to take the lives of women every day, Çiçek added: "The names of the murderers are different! Those who encourage them are those who do not follow the Istanbul Convention, those who try to abolish the Istanbul Convention!"
BACKGROUND
Pınar Gültekin left her house on 16 July and was not seen since. Worried about Pınar, her older sister and mother went to Muğla and reported her missing at  Akyaka Gendarmerie Station. Gendarmerie teams started searching for the missing woman.
Gültekin was found dead in the woods six days after her disappearance. Taken into custody in relation with her killing, Cemal Metin A. confessed the murder.