Women in North Kurdistan take to the streets
Demonstrations and actions are taking place all over North Kurdistan to mark November 25.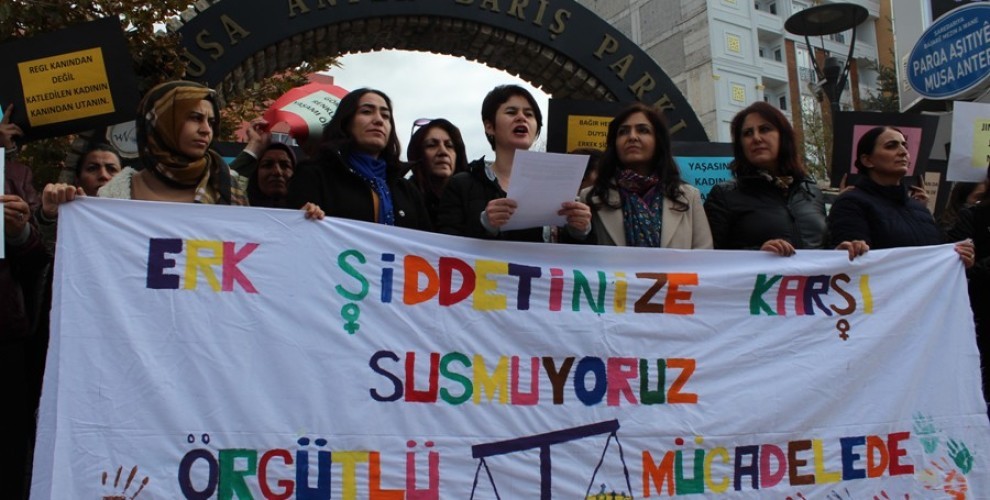 Demonstrations and actions are taking place all over North Kurdistan to mark November 25, the International Day for the Elimination of Violence Against Women.
BATMAN
Peoples' Democratic Party (HDP) Batman Women's Council, held a press conference in front of the party building.
Free Women's Movement (TJA) activists, as well as HDP Batman Deputy Ayse Acar Basaran took part at the press conference which was attended by many women.
A banner saying 'Jin, Jiyan, Azadî' was opened during the action which was obstaculated by police.

Speaking in the action, HDP MP, Ayşe Acar Başaran, underlined the hunger strike being carried out by Democratic Society Congress (DTK) Co-Chair and HDP Hakkari MP, Leyla Güven.
Başaran said: "Leyla Güven is demanding the removal of the isolation regime imposed on Mr. Abdullah Öcalan. We, as women, know very well what isolation means. For thousand years there has been a deep isolation of women. We made Leyla's demand ours".
TJA activist Zozan Simsek said: "Women will achieve peace through their organization, we will achieve life, surely we will win".
ŞIRNAK

The HDP Women's Council organised a press release in the Silopi district of Şırnak.
Scores of women joined the action, together with HDP Council member Zübeyde Zümrüt.
A banner saying 'Long live women's solidarity against male state violence' was opened at the place of action.
URFA

Urfa Women's Platform got women together as well as HDP Urfa Deputy Ayse Sürücü, Istanbul deputy Oya Ersoy, KESK Co-chair Aysun Gezen, DBP, İHD, CHP, Women's Life House and Peace Mothers representatives.
Before the statement read in front of Ahmet Bahçıvan Business Center, the police tried to made it difficult for women to begin the action.
A banner saying 'Stop violence against women' was opened and DBP Provincial Co-Chair Sema Aişeoğlu said that the aim of the AKP government is to imprison the woman in the family in order to control and manage the society more easily in line with the reactionary ideology.
ANTEP

Antep Women's Platform read a press release during an action organised in Yeşilsu.
A banner saying 'We will reclaim our freedom, we will end male domination', was opened during the action.
During the press conference the names and photos of all women killed by men throughout the country in 2018 were hung on the trees in Yeşilsu.

Speaking on behalf of the Women's Platform Antep union Eğitim Sen (Education Union) Women's Secretary Sara Alagöz said: "We do not accept the limits imposed on women. They won't succeed in making us paying the bill of the deepening economic crisis. We'll make sure the responsible for the crisis will pay the bill. What makes our labor invisible - she added - is the pebble stone of the gear of this exploitation wheel that commodifies our bodies. We will not step back from the struggle until the day when the exploitation wheel stops". 

DERSIM
Dersim Women's Platform made a press statement at Seyit Riza Square as part of the actions scheduled for 25 November.
A large number of women joined the action carrying the photos of the murdered women as well as the photo of 85-year-old prisoner Sise Bingol.
Speaking on behalf of the platform, Tuba Apaydın said that women around the world continue to fight dictators, all forms of violence, war, harassment, rape, poverty, destruction of their rights, and continue to carry out the struggle against inequality.

VAN
Van Ahtamara Platform promoted a march despite police's pressure. The women marched to Musa Anter Peace Park.
HDP Van Provincial Co-Chair, Yadishen Karabulak, DBP Van Provincial Co-Chair Ayla Tarhan, Van Deputy Bedia Ozgokce Ertan, TJA Activists, Ah Tamara Platform Members, KESK Representatives, Peace Mothers and women from Van, all joined the action.
Slogans like 'We don't want love that kills' and 'Jin Jiyan Azadi' were chanted during the march.