Women block Galata Bridge in Istanbul
On the Galata Bridge in Istanbul, activists of the trade union federation KESK protested against the cancellation of the agreement on the prevention of violence against women: "We will not be isolated, we are women and in revolt!"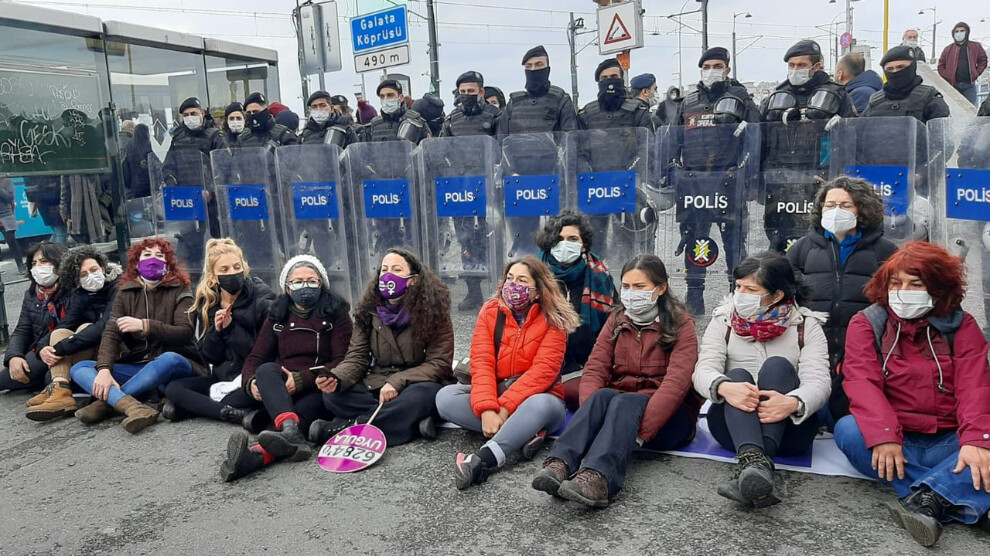 In protest against the withdrawal from the Istanbul Convention, activists of the Public Employees' Trade Union Federation (KESK) have blocked the Galata Bridge in Istanbul. The federation's women's platform moved to the bridge from Karaköy with a banner with rainbow colors and the inscription "We do not renounce the Istanbul Convention". The women shouted "Jin, Jiyan, Azadî" [Woman, Life, Freedom] in Kurdish and demanded the unconditional implementation of the agreement to prevent violence against women.
On the bridge, the trade unionists were stopped by the police and protested with chants: "Don't stop the women, stop the murderers!". After a longer scrum against the police officers equipped with shields, the activists sat down on the ground and continued to loudly express their demands: "The Istanbul Convention must be implemented, the denunciation must be withdrawn. The only goal of the dissolution of the convention is to protect the origin of domestic violence. We are not renouncing the Convention or our rights!"
The women rejected the police's offer to make the planned statement surrounded by emergency personnel: "We will not be isolated, we are women and we are in revolt!" The protest ended with the announcement that women will continue to take to the streets until the Istanbul Convention is implemented.