TJK-F: Our anger is as alive as 8 years ago
TJK-F issued a statement after the 9 January protests and said: "We salute the determination of the Kurdish women who have walked with us in 5 cities in France, especially the capital Paris."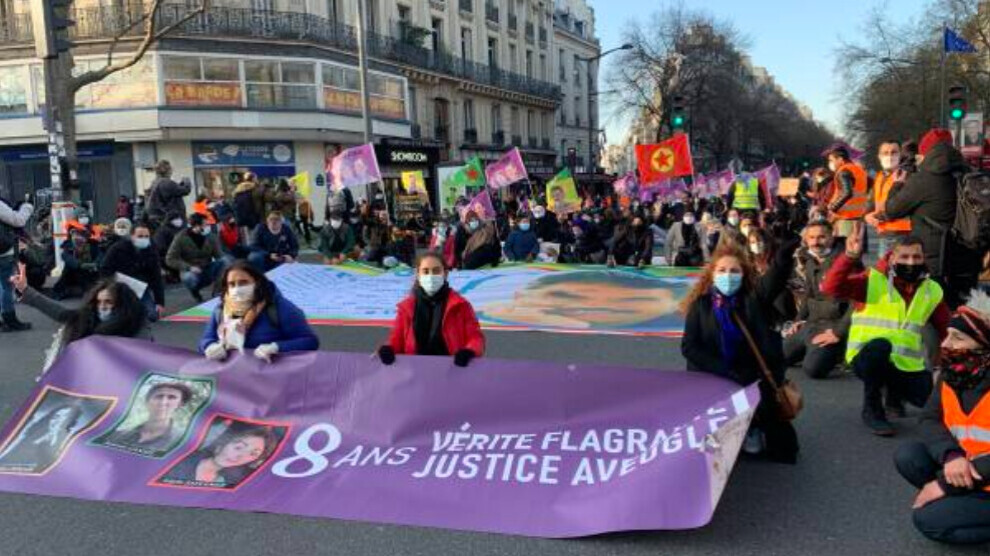 The French Kurdish Women's Movement (TJK-F) issued a written statement regarding the protests organized to condemn once again the Paris massacre on its anniversary: "We left behind the 8th anniversary of the Paris massacre. But it's just time we leave behind: 8 years have passed and that massacre is still alive in the minds of Kurdish women. Our anger is as there as it was on the first day. The promise we made 8 years ago that we would bring perpetrators to account and that we will continue our freedom march for the murdered 3 women revolutionaries are still valid.
That is why we took to the fields in many different countries of Europe, in different sides of the world: To tell those who plan to eliminate the Kurdish women's movement by murdering 3 women revolutionaries, that those 3 saplings have now turned into a forest.  We will fight not only commemorating them one day. We will also enlarge our struggle for freedom and make the autonomous and original system of women a lifestyle."
The statement continued: "We will destroy whatever is preventing us (state, patriarchy or pandemic) with our loyalty to our comrades, our anger towards the murderers, and we will be in the fields every 9 January, until the dictator Erdogan, who ordered the massacre, will be put on trial, and the massacre of women is dealt with as "femicide", not local accidents, by international law."
The statement added: "We salute the determination of Kurdish women who walked this path with us in 5 cities in France, especially in the capital Paris. Again, we greet all our friends who claimed our demands as their own demands, political party representatives who share our voice, our sisters from the feminist women's movement, our friends from the ecological movement, in short, all our friends who do not leave us alone in these difficult conditions.
Sakine Cansiz, Fidan Doğan and Leyla Şaylemez remain alive at every moment when the past, present and future meet; whenever women exhibit their feelings of solidarity and sisterhood! And Erdoğan, who ordered the massacre, will be tried as a dictator!"