TJK-E publishes action plan for Shengal
On the anniversary of the genocide and femicide of the Yazidis in Shengal, activities will be taking place across Europe starting today. The Kurdish women's movement in Europe demands an autonomous status for Shengal.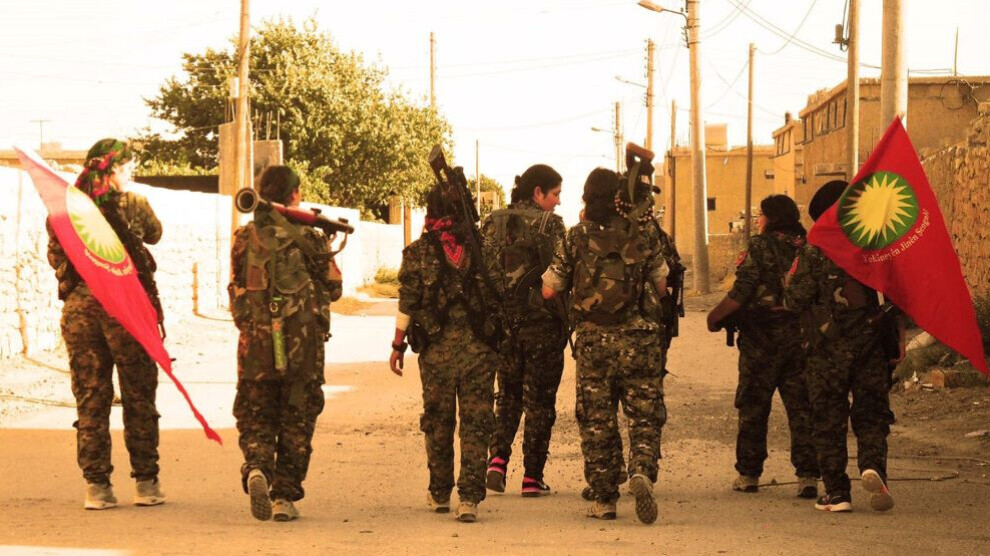 On August 3, 2014, the terrorist militia "Islamic State" (IS) attacked Shengal with the aim of wiping out one of the oldest religious communities; the Yazidis. Through systematic massacre, rape, torture, expulsion, enslavement of girls and women, and forced recruitment of boys as child soldiers, the Yazidi community experienced what it called the Ferman, the 74th genocide in its history. At least 10,000 people are estimated to have fallen victim to IS massacres. More than 400,000 people were displaced from their homes. Over 7,000 women and children were abducted and to date, 2800 women and children are still missing. Therefore, this genocide in its form also represents a femicide.
When IS moved into Shengal seven years ago, the roughly 12,000 peshmerga of the south Kurdistan's ruling party KDP stationed in the region withdrew without warning, leaving the population defenseless against the Islamists. Those who could flee went into the mountains. There, a dozen HPG guerrilla fighters initially protected access to the mountains and prevented the jihadists from entering. Additional HPG units were sent to Shengal to defend the Yazidis. On August 6, two battalions of the People's and Women's Defense Units (YPG/YPJ) from Rojava came to the aid of the HPG. An escape corridor was established to evacuate the tens of thousands of people who had fled to Shengal Mountain. In the first few days, around 50,000 Yazidis were able to reach Rojava via this corridor. This prevented an even greater massacre.
Demands of the Kurdish women's movement
The genocide and femicide of the Yazidis is still an open wound. As a lesson from history, the people of Shengal are demanding autonomy and the right to self-defense. The Kurdish Women's Movement in Europe (TJK-E) joins in this and announces actions on the anniversary to commemorate the massacre and make the following demands:
- August 3 must be recognized worldwide as a day of remembrance for the genocide and femicide of the Yazidis.
- The displaced Yazidis must be allowed to return to Shengal.
- The still missing Yazidis must be freed.
- Shengal must be given an internationally recognized status.
TJK-E declares that all further attacks on women can only be repelled through organized self-defense. Starting today, demonstrations, rallies and commemorative events organized by the TJK-E and the Yazidi women's movement SMJÊ will take place throughout Europe. The following actions have been announced in Germany, Austria and Switzerland:
August 2
Celle: 2-6 p.m., city hall
Bremen: 7:30 p.m., central station
Wesel: 3 p.m., Berliner Tor
August 3
Hanover: demonstration, 5:30 p.m., central station
Walsrode: 6 p.m., City Hall
Frankfurt: 6 p.m., Liebfrauenberg main station
Giessen: 4:30 p.m., Berliner Platz
Mannheim: 6 p.m., Paradeplatz
Saarbrücken: 6 p.m., Europagalerie
Darmstadt: 6 p.m., Luisenplatz
Hamburg: 11 a.m., Altona (Mercado)
Kiel: 1 p.m. - 7 p.m., Europaplatz
Berlin: 12 p.m., Platz der Republik
Stuttgart: 6 p.m., Schlossplatz
Freiburg: 5 p.m., Square of the Old Synagogue
Essen: 6 p.m., Willy-Brandt-Platz
Wesel: 5 p.m., Berliner Tor
Dortmund: 6 p.m., Sparkasse Dortmund
Düsseldorf: 6 p.m., DGB-Haus
Münster: 6 p.m., main station
Bern: 6 p.m., Bahnhofplatz
Geneva: 1-5 p.m., UN building