TJK-E calls for broad participation in protests for Öcalan on 11 December
The Kurdish Women's Movement in Europe calls for broad participation in the demonstration to be held on December 11 for the freedom of Kurdish leader Abdullah Öcalan.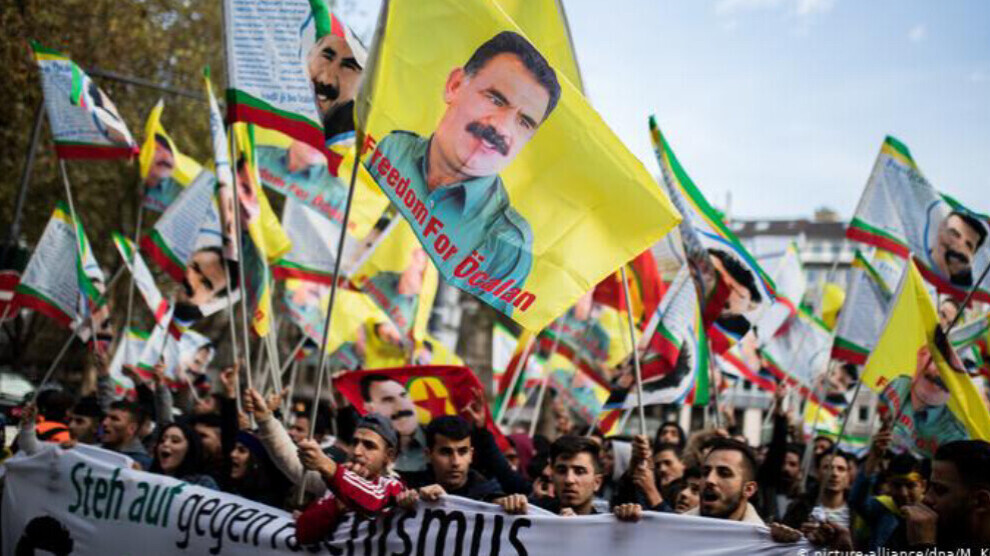 The Kurdish Women's Movement in Europe (TJK-E) released a written statement to mark 10 December, announced by the Freedom for Abdullah Öcalan Initiative as the International Day of Freedom for Abdullah Öcalan.
"The forces which introduced the October 9 Conspiracy aimed to eliminate the Kurdistan freedom movement and the struggle for freedom and equality in the Middle East, have failed. While the conspirators were defeated, the freedom struggle has grown and become hope for the whole world. The resistance of Kurdish women and people, and especially the historic resistance of Öcalan frustrated this concept. We once again condemn the most brutal and inhumane conspiracy in the history of humanity. We commemorate with respect and gratitude the heroes who fought and resisted the conspiracy and fell as martyrs," the statement said.
'WE CAN FRUSTRATE THIS ATTACK ONLY THROUGH RESISTANCE'
The statement continued: "Despite the torture system and the absolute isolation imposed on Öcalan, the Democratic and Free Life Paradigm he developed has given hope to the peoples of the Middle East and the world, particularly to the peoples of Kurdistan. It has become the only option for the democratization of Turkey and the Middle East, for a solution to problems, for women's liberation and for an egalitarian common life. The fact that this philosophy has gradually become more popular has disturbed the fascist Turkish state and its power holders. A comprehensive attack and isolation have thus been implemented. We can frustrate these attacks through the common struggle and resistance of the people, including us women.
REACTION TO INTERNATIONAL SILENCE
This absolute isolation and attacks on Öcalan are aggression directed at all peoples of Kurdistan and humanity. The silence of all international institutions, especially the CPT, causes the AKP-MHP fascist government to escalate these policies. The fascist AKP-MHP regime attacks all the gains of the Kurdish people and wants to destroy everything that promotes a free Kurdish identity. The international institutions remain complicit in this fascism.
Increasing the struggle against fascism and paving the way for victory together with women, the Kurdish people, the youth and everyone who promotes the values ​​of humanity are the only way out. Therefore, we say that 'The freedom of Öcalan is our freedom'. The most effective and meaningful way to achieve this is to get together around Öcalan.
'LET'S RAISE OUR VOICE FOR ÖCALAN'S FREEDOM'
The Freedom for Abdullah Öcalan Initiative announced December 10 as the International Day of Freedom for Abdullah Öcalan. People from different parts of the world, especially the people of Kurdistan, will broadly participate in the protests demanding freedom for Öcalan. Demonstrations and events will also be held on December 11.
As the Kurdish Women's Movement in Europe, we call for broad participation in demonstrations as part of the 'Time to defend free women and society against femicide' and 'Stop Isolation, Occupation, Fascism, Time to secure Freedom' campaigns. On December 11, one voice will be raised all over the world, that will be demanding freedom for Öcalan."