TJA report denounces special war policy enforced on Kurdish women in Turkey
The Free Women's Movement reported that 64 women were killed in the first 9 months of 20121 and said that a war policy specifically targeting women has been implemented in Kurdistan.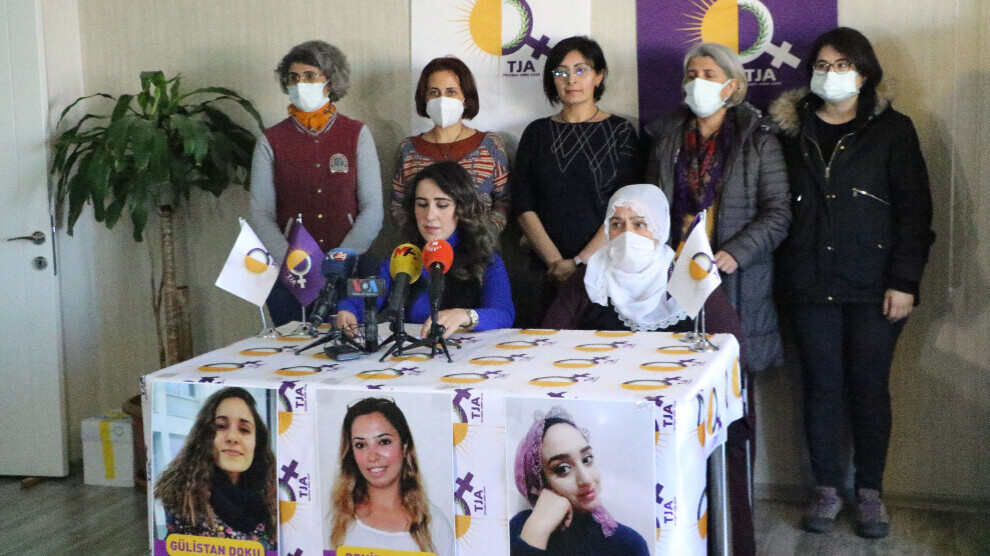 The Free Women's Movement (Tevgera Jinên Azad, TJA) in North Kurdistan announced its report which relied on a one-year field work on violence against women living in Kurdish cities at a press conference held at the Information Office of the Democratic Regions Party (DBP) Headquarters in Amed (Diyarbakır). Photos of murdered women Deniz Poyraz, İpek Er and Gülistan Doku were displayed during the press conference which was attended by members of the Peace Mothers Assembly and the Rosa Women's Association.
'SPECIAL WAR'
The report covering the violations that took place between January and September 2021 was read out by TJA activist Dilan Güvenç who said, "While preparing the report, we realized that the situation was more serious than what was revealed to the public in the press. There has been a special war waged by uniformed state officials in our cities to target women."
'FEMICIDES CONTINUE IN EVERY ASPECT'
Güvenç stated that the male-dominated mentality continues to slaughter women and take them away from life. "Femicide is experienced not only on a physical level, but also on an intellectual and emotional level. Women are not only physically in jeopardy but also punished and persecuted because of their identity, culture and political preferences," she said.
'KURDISH WOMEN ARE SPECIFICALLY TARGETED'
Güvenç emphasized that the ruling AKP-MHP alliance has targeted women's will since it came to power. "Targeting pro-women local administrations through government-appointed trustees, criminalizing the co-presidency system, and withdrawing from the Istanbul Convention are among these misogynist policies. It affects all women living in this territory. Apart from these policies that affect all women living in the country, women in Kurdistan are treated separately because of the ongoing war and isolation practices as in all other political issues.
IMRALI ISOLATION
Güvenç underlined that they want to expose the special war policies carried out in Kurdistan with this report. "The government, which relies on security policies, is implementing a 'collapse plan' in our region together with a war based on force. Along with the aggravated isolation imposed on Kurdish leader Abdullah Öcalan in Imrali Island, the fields of resistance in society, especially the prisons, are targeted. The 'state of exception' implemented in Imrali has been transformed into a policy that penetrated into the whole society. The 'state of exception' as a state tradition has become the basis of impunity," she said.
ROLE OF TURKISH JUDICIARY
Güvenç also pointed out that women who defy these policies, who struggle and promote an equal and free society are subjected to judicial harassment by the state and become the target of all kinds of dirty policies. She recalled that numerous women activists have been detained and prosecuted for joining the women's struggle and participating in March 8 and November 25 events. "The isolation conditions are used as a means of legitimizing unlawfulness and impunity and every state crime against the Kurds and Kurdish women is justified under the pretext of 'fighting terrorism," she noted.
Güvenç stressed that male violence in Kurdistan has two dimensions. "On the one hand, there is the oppression of male domination which is directly carried out by men and promoted by politicians. On the other hand, there is the reality of the nation-state which is linked to this dominant mentality. The current government commits war crimes against women, especially young women, in the cities of Kurdistan. The perpetrators are directly encouraged and not punished in any way. State officials in uniform try to deceive women, especially through social media, and to exploit their bodies, labour and identities with promises of 'love, commitment, marriage'. Many people living in the cities of Kurdistan are aware of all these dirty policies that have gradually increased. Despite this, no steps have been taken so far to stop or prevent this situation, and the Kurdish women who expose it are intimidated."
'WE WILL PROMOTE OUR SELF-DEFENSE IN EVERY AREA'
Güvenç continued, "We know from history this organized male-state mind which does not tolerate any organized power against it. Women whose naked bodies were exposed, women who were subjected to harassment and rape under custody, women who were forced to migrate because of war and whose bedrooms were filled with immoral captions by state officials, women who were murdered in party buildings and women who were driven to suicide…. These abuses emerge not only as a result of male domination, but also as a result of the conquest policy of this male-dominated mind. As Kurdish women, we will not abandon the fight for women's liberation against these attacks, and we will continue to promote our self-defence in all areas of life as we did not bow to these policies in the past and made society believe in the equality of men and women."
FEMICIDES
According to the report, 64 women were killed in the cities of the Kurdish region as a result of male violence in the first 9 months of the year. The perpetrators of 17 femicides are known, while 47 women were murdered suspiciously. 321 women were subjected to violence by male figures (father, spouse, lover, brother, unknown man, relative) in their lives.  9 women were raped, and 12 women were harassed.
The report said that 45 of the 75 women who applied to the Legal Aid Office against Sexual Harassment and Rape during Detention in 2020 were Kurdish women. The perpetrators were listed as follows:
*Police: 49
*Gendarmerie/Soldier: 15
*Special Police Team: 3
*Village Guard: 1
*Correction Officer: 19
*Night-watchman: 1
*Other Public Officials: 30
*ISIS (Islamic State of Iraq and Syria): 1