Thousands from Afrin and Shehba march against Turkish invasion
Protests continue across North-East Syria against the torture of women held captive in Afrin.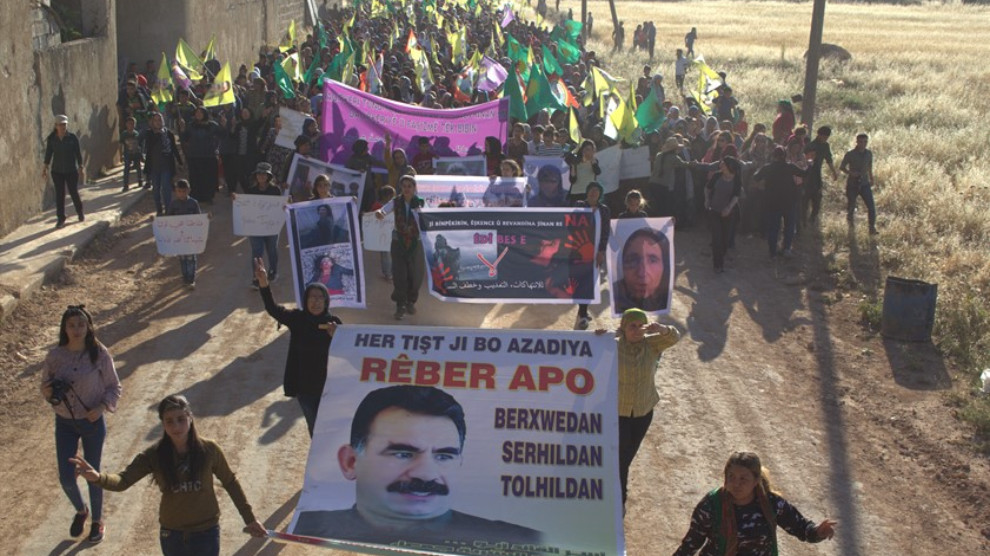 A number of Kurdish women, many of them Yazidis, were abducted after the invasion of the Afrin city by the Turkish army in spring 2018, and many are still in the prisons of the militias commanded by Turkey, being tortured and sexually abused. Videos that have appeared on online networks in recent days show, among other things, the evacuation of abducted and imprisoned women prisoners found in an internment camp of the pro-Turkish militia Furqat al-Hamza.
Thousands of people from Afrin and Shehba staged a march in protest at the inhuman attack against women in Afrin. The demonstration in Til Sosin village of the Ehdas district was organised by the Afrin branch of women's umbrella organization Kongreya Star.
Chanting slogans against the Turkish state and allied mercenaries, demonstrators displayed images of Kurdish leader Abdullah Öcalan, flags of Kongreya Star and images of women abducted by the jihadist groups under Turkish command.
The march ended at the Serdem Camp where Dalya Henan from Kongreya Star Rojava Coordination read out a statement in the name of the demonstrators. Henan condemned the Turkish state's attacks against the people of Afrin and the silence of the international community in the face of the inhuman acts perpetrated by the invaders. Henan called for international action to call the Turkish state to account.
Speaking after, Sureya Hebeş, co-chair of the Fafîn District Council of Martyrs' Families, called on the women in the region and all around the world to stand up against the Turkish state's attacks on women.
The demonstration was concluded with slogans commending the resistance of women.
RELATED NEWS: