Tens of people died and thousands detained as protests increase in Iran and Rojhilat
While the protest actions that started in Tehran after the murder of young Kurdish woman Jina (Mahsa) Amini by the Moral Police continued on the eighth day, tens of people lost their lives and thousands were detained.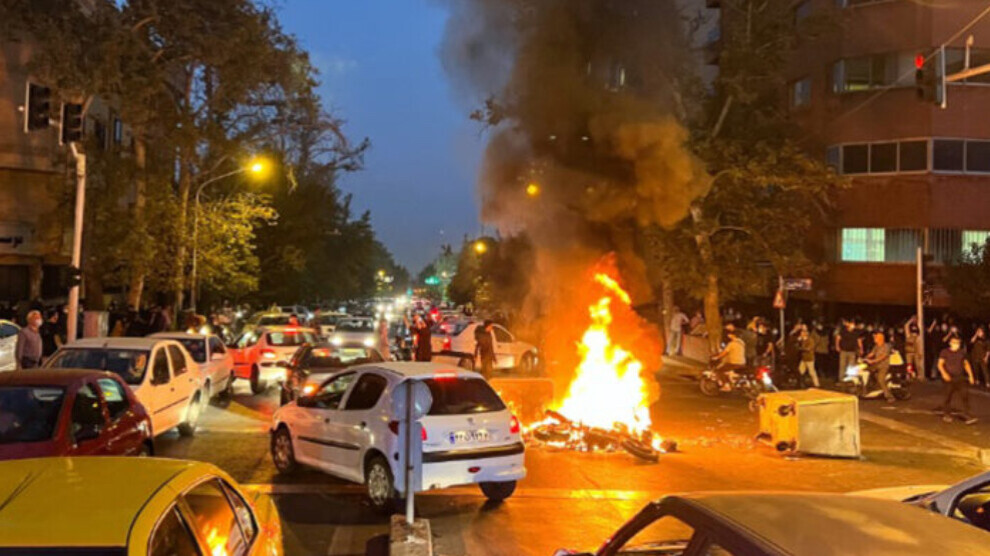 Protests are spreading after 22-year-old Jina Amini was detained in Tehran on 13 September for not wearing the hijan "properly". She died in hospital three days later.
Images of protests were widely shared on social networks, coming especially from the cities of East Kurdistan and Iran's Tehran Weliesir, Ekbatan, Setarxan, Sadiqiye, Aryaşehir, Saedet Abadi.
The slogan 'Jin, Jiyan, Azadi' (Woman, Life, Freedom) is heard frequently, resounding from Sine to other cities in Rojhilat and Iran.
Despite the fact that the state forces opened fire with live bullets in Sine, the people chanted "Death to the dictator".
Protests were also held in the cities of Piranşar and Mahabad. The city of Shino in East Kurdistan came under public control on Friday. The headquarters of the Revolutionary Guards were burned. While many special police units were sent to the city, communication facilities, especially the internet, were cut off. Some sources report that an intense detention frenzy has started in the city.
740 people taken into custody in Giyalan
According to Tasnim news agency, 739 people were taken into custody in the province of Giyalan alone.
Tens of dead, thousands in custody
Protests were organised in the cities of Shiraz, Rezcan and Newşehir. According to Iranian opposition sources, the demonstrations spread to at least 139 cities in 31 regions. The same sources report that 140 people were killed and more than 5,000 people were taken into custody.
According to official data, 39 people died. The Oslo-based Iranian Human Rights Organization (IHR) announced on Friday that at least 50 people had been killed.
Opposition sources said that clashes took place between the Revolutionary Guards, plain-clothes intelligence officers and the Basij militia, and young people in 21 locations in Tehran and in different cities.
Iranian president threatened people
Iranian president Ibrahim Reisi threatened the demonstrators and ordered state forces to end the protests.
Meanwhile, the Islamic Iranian People's Union, which was formed by people close to former president Mohammad Khatami, urged officials to make legal arrangements that would lead to the repeal of the mandatory ban on the organization.
The same body called for the establishment of an impartial investigation commission into the murder of Jina Amini and the immediate release of those detained, while demanding an end to the Moral Police activities and permission to hold peaceful actions.