Saturday Mothers meet despite police threats
The Saturday Mothers have come together for the 702nd week. This week's demonstration asked what happened to Kenan Bilgin after he disappeared under custody. The police told the grieving mothers to "stop with the show".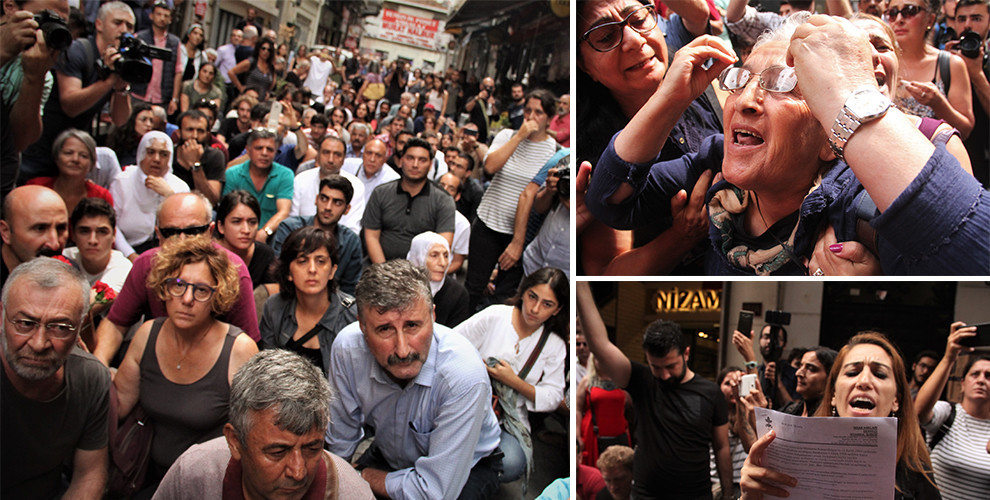 Saturday Mothers, whose demonstrations in the Galatasaray Square were "banned" by the Interior Minister Suleyman Soylu, met in front of the Human Rights Association (IHD) Istanbul Offices for the 702nd week. HDP MPs Garo Paylan, Züleyha Gülüm, Ali Kenanoğlu and Ahmet Şık, Labor Party (EMEP) Chairperson Selma Gürkan, ÖDP Presidential Council Member Alper Taş, journalist Hrant Dink's son Arat Dink, relatives of the disappeared and various democratic organizations participated in the demonstration. Bar association chairpersons from various provinces and members of Writers Union of Turkey were among the supporters of the relatives of the disappeared.
DEFYING THE POLICE BAN
Saturday Mothers started marching from the IHD to Galatasaray, and they were cut off by the police in the Büyükparmakkapı Stret. The group protested the arbitrary obstacle by holding an in promptu sit-in in the street, and then read their weekly statement under police announcements that they were to intervene. Hanife Yıldız, 65 year old mother of the disappeared Murat Yıldız, protested the police's incessant announcements: "I am a mother, asking the fate of my son. You can't stop me," said the grieving mother before she fainted. One police chief told the mother to "stop with the show".
THE FATE OF KENAN BİLGİN
This week's statement was read by Besna Tosun, daughter of the disappeared Fehmi Tosun. The crowd asked the fate of Kenan Bilgin, who disappeared while under custody on September 12, 1994. Tosun said, "We will never stop searching for our disappeared," and continued: "Disappearances under custody is defined in international law as a crime against humanity. According to international law, it is the responsibility of states to protect every person from disappearing under custody and to punish this crime effectively. We as the relatives of the disappeared and as rights defenders have been demanding for 702 weeks that the state fulfill this duty. Hours before our 700th meeting in Galatasaray, we were battered and targeted by tear gas cannisters under severe police brutality, we were tortured, wounded and detained. Today, our meeting place with our disappeared loved ones, the Galatasaray Square, is under siege by water cannons, construction machines and steel and concrete barricades. Armed policemen were stationed to stand against the photographs and carnations we carry."