Rosa Women's Association: We will take stronger steps
The Rosa Women's Association condemned the political genocide operations and vowed to organize more and take stronger steps.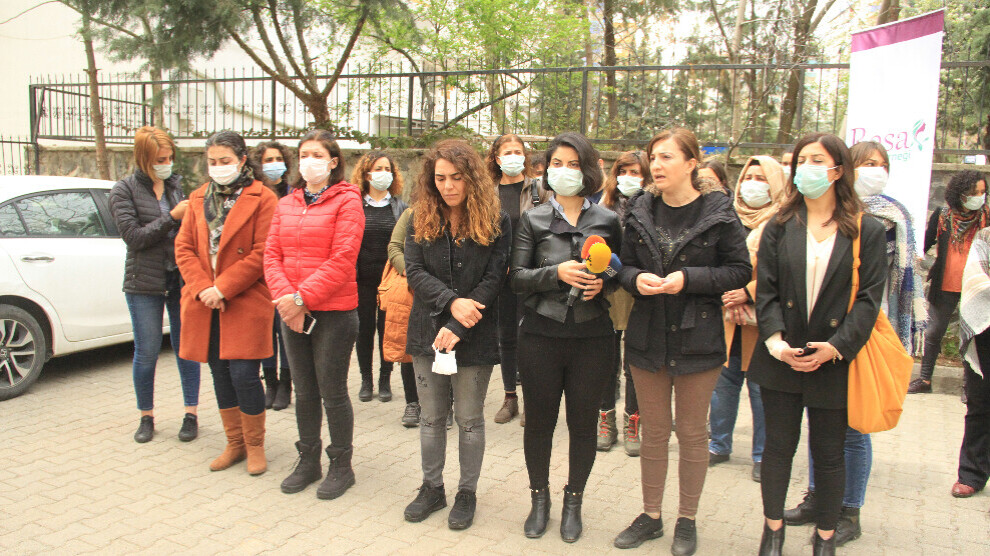 Rosa Women's Association released a press statement to slam the political genocide operations targeting the association.
'INVESTIGATING EVERY WOMAN IN AMED!'
Head of the Rosa Women's Association, Adalet Kaya stated that "Since May 22 last year, there have been attacks on both our association and activist women in Diyarbakır. Almost every woman who took part in the women's liberation struggle in Diyarbakır has been investigated."
'OUR ANGER WILL LEAD US TO TAKE STRONGER STEPS'
Kaya continued, "We, as Rosa Women's Association, are carrying out a struggle against femicides. We have carried out a number of actions and activities against harassment, rape, forced early marriages, withdrawal from the Istanbul Convention, usurpation of the right to alimony. Our friends who have been detained in today's operation are accused of such actions and activities. The authorities are trying to illegalize our association through these attacks. We are now very angry about these attacks. This anger will lead us to organize more and take stronger steps."
The recent political genocide operations have been launched to weaken the solidarity we develop with other women's organizations in Turkey. We will never give up our demand for rights and justice. We will never abandon our promise and will continue to work for our demand for freedom, equality, peace and justice."
Kaya pointed out that the latest crackdown was introduced to put off an action scheduled for April 10 in protest at the government's decision to withdraw from the Istanbul Convention, adding that they will nevertheless carry out the action.
Association member and lawyer Elif Tirenç İpek stated that the police raid was a continuation of the previous raid carried out on May 22 last year. İpek noted that the lawyers and association executives were not informed during the raid, the search warrant was not presented to the lawyers, and since the file was confidential and the reason for the investigation could not be learned. Official documents of the association were unlawfully confiscated without informing the prosecutor of the investigation.
İpek made it clear that the police raid targeted the women's struggle.