Resistance grows in Iran and Rojilat as death toll rises
Protests for freedom and democracy continue in dozens of cities in Iran and East Kurdistan as the death toll keeps rising.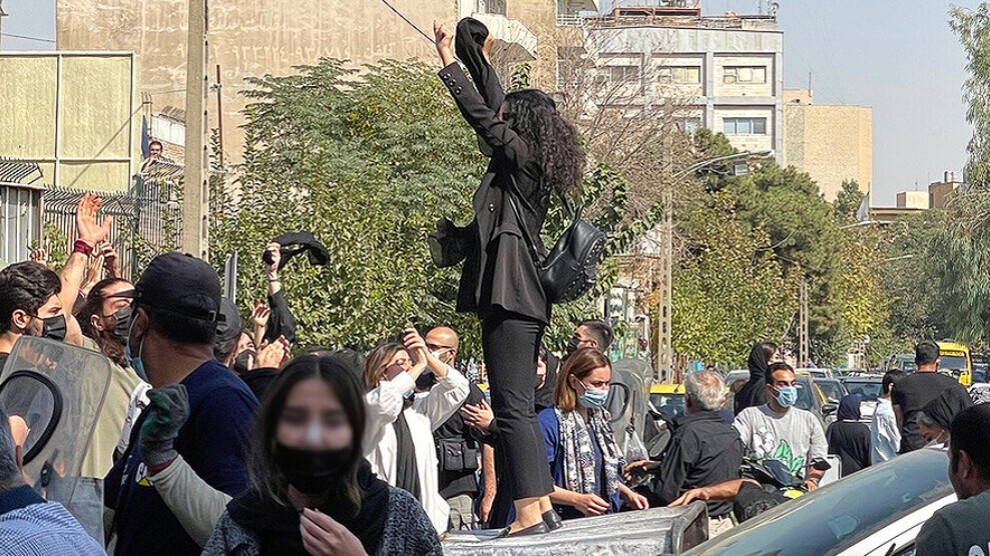 Anti-regime protests have been raging nationwide in Iran since the murder of 22-year-old Kurdish woman Mahsa (Jina) Amini in Tehran by the "morality" police on September 16.
An investigation has been launched into the death of Nika Shakrami, who was murdered during the demonstrations.
"Tehran Criminal Court has launched an investigation to determine the cause of death of Shakrami," Tehran prosecutor Ali Salehi said following strong public backlash.
Salehi added that 400 activists arrested during the demonstrations had been released from prison "on condition that they would not repeat their actions".
Those who undermine national security would be treated "intolerantly", the prosecutor threatened demonstrators.
Despite the further murders by the state forces, the protests have not ceased.
In many cities of East Kurdistan, female university students launched strikes at universities. Women students took off their headscarves against the regime and its violations of the right to freedom.
Demonstrations took place in many cities under the motto 'Jin, Jîyan, Azadî' (Woman, Life, Freedom). On the night of October 4, protests resumed in East Kurdistan's cities of Sine, Kirmanshan, Ilam and Urmiye, as well as in Diwandere, Seqiz, Meriwan, Mahabad and Dêwlan. State forces opened fire on protesters in many cities.
University students organized protests across Iran. Images disseminated through social media show the scale of the protests.
Protests continue uninterrupted, especially in big cities such as Tehran, Shiraz, Mashhad, Esfahan, Reşid, Tevrêz, Zencan and Yazid.
MASSACRE IN ZAHEDAN: 63 DEAD
In the meantime, tensions have escalated in Sistan and Balochistan when dozens of protestors were killed in the province's capital, Zahedan, last Friday.
According to the Iranian Human Rights Organization (IHR), at least 63 people were killed in Zahedan. "The killings in Zahedan constitute a crime against humanity," the IHR said.
AT LEAST 154 PEOPLE KILLED
According to a report released by the IHR on October 4, at least 154 people, including children, have been killed across the country.
According to the IHR report, 63 people were killed in Sistan Balochistan, 27 in Mazandaran, 12 in Gilan, 11 in West Azerbaijan, 8 in Kurdistan province, 7 in Kirmasan, 6 in Tharan, 5 in Elborz, 3 in Khorasan-Razavi, 2 in Kohgiluye and Buyer Ahmed province, 2 in Isfahan, 2 in Zencan, 2 in Kazvin, 1 in Semnan, 1 in Ilam, 1 in East Azerbaijan and 1 in Bushehr.
An Iranian opposition group, the People's Mujahideen, reported that protests have spread to 170 cities in 31 provinces, where 400 civilians have been killed and 20,000 people have been detained.