Prisoners' mothers in Viransehir send fax to Ministry of Justice
Mothers from Viransehir sent a fax to the Ministry of Justice, supporting their children's demands and demanding an end to the isolation to prevent deaths and put an end to the chaos in the country.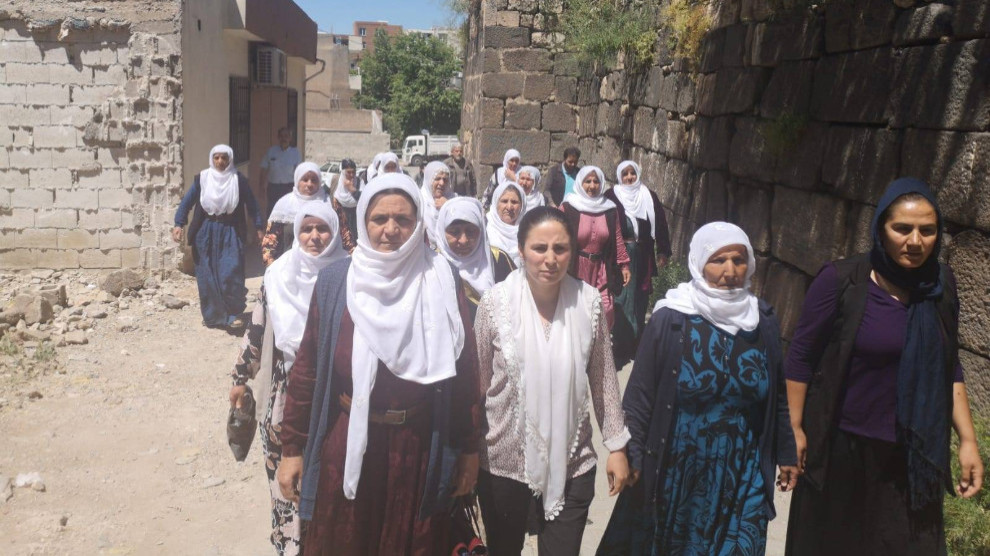 Mothers in Urfa's Viransehir district whose children are on hunger strikes protesting the isolation imposed upon Kurdish People's Leader Abdullah Ocalan marched to the district post office and sent a fax to the Ministry of Justice. The mothers demand an end to the isolation.
The mothers gathered in the Peoples' Democratic Party (HDP) district offices and started marching to the district post office, accompanied by HDP Urfa MP Ayse Surucu. The mothers chanted "Biji Berxwedana Zindanan" as they marched and the district's residents showed support through applause. The mothers issued a statement in front of the post office.
"THE ISOLATION MUST END TO END THE CHAOS IN THE COUNTRY"
Zeynep Kizilboga said her son Ercan Kizilboga has been on a hunger strike since March 1 in the Ordu Prison and added: "Let Erdogan hear my voice, he is not deaf, is he? He has children too. Ours are dying."
MP Ayse Surucu also spoke and said thousands of prisoners are on hunger strikes but the government continues to act deaf dumb and blind. Surucu said they don't want deaths to occur in prisons: "We will send a fax to the Ministry with our demands. Isolation is a crime against humanity. Isolation has created a chaos in Turkey. Every area is stuck. The isolation must end if Turkey is to find a way out of this chaos."
The mothers marched back to the HDP offices chanting slogans supporting their children's resistance after the fax was sent.