Peace Mothers prevented from marching to the AKP HQ in Amed
Police obstructed the march of Peace Mothers to the AKP provincial headquarters in Amed on occasion of Mother's Day.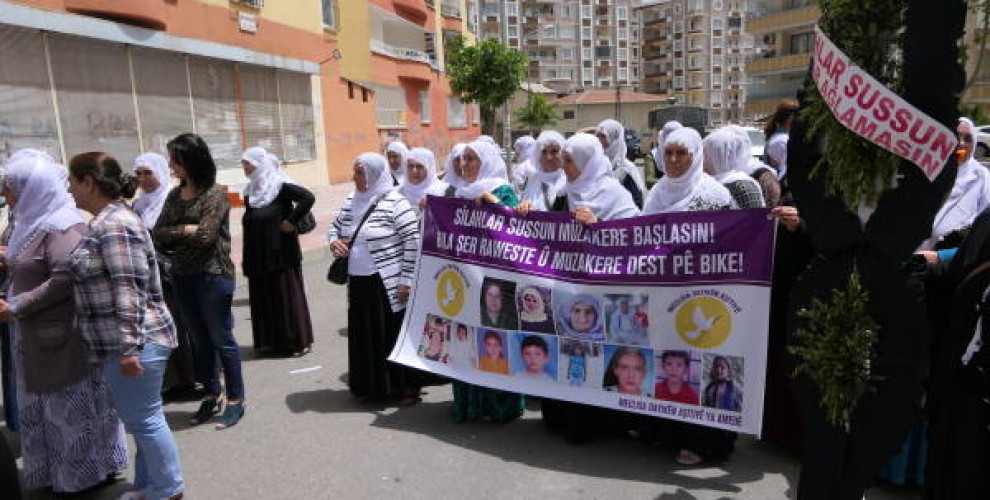 Members of Amed Peace Mothers Initiative, DTK Co-chair Leyla Güven and HDP Amed parliamentarian Sibel Yiğitalp gathered in front of the DBP (Democratic Regions' Party) building in Amed and to march to the AKP headquarters and leave a black wreath on occasion of Mother's Day.
Carrying photos of women and children massacred by the state and banners that read "Silence the guns and start the negotiations" in Turkish and Kurdish, mothers were surrounded and blocked by riot police and armored vehicles as they were about to start their march. The mothers therewith launched a sit-in in front of the DBP building.
As DTK Co-chair Leyla Güven and HDP Amed MP Sibel Yiğitalp talked with the chief of police for the removal of the blockade, argument erupted between the police chief and Güven when she said "Kurdistan" during the talk.
Güven told the police chief "Marches are held to mark the Mother's Day all across Turkey but it is not allowed in Kurdistan." The police chief threatened Güven in response and said "This is not Kurdistan, it is Diyarbakır. You will not say Kurdistan." Afterwards, Güven said "Yes, it is Kurdistan and you do not allow Kurdish mothers to celebrate their day."
Amed Peace Mothers did not retreat despite the police blockade and oppression, and peace mother Sultan Koyuncu made a statement in front of the DBP building. Koyuncu stated that as Kurdish mothers, they hope that the Mother's Day will bring peace, and said "We do not want anyone to die. We wanted to leave a wrath in front of the AKP headquarters in order to make our demand for peace heard. However, as you see, police obstruct the mothers' demand for peace."