Peace Mothers march in Şırnak against Turkey's massacres and use of chemical weapons
Peace Mothers marched to the Habur Border Crossing in Silopi in protest of the Turkish state's chemical attacks in its ongoing military campaign against guerrilla forces in southern Kurdistan (northern Iraq).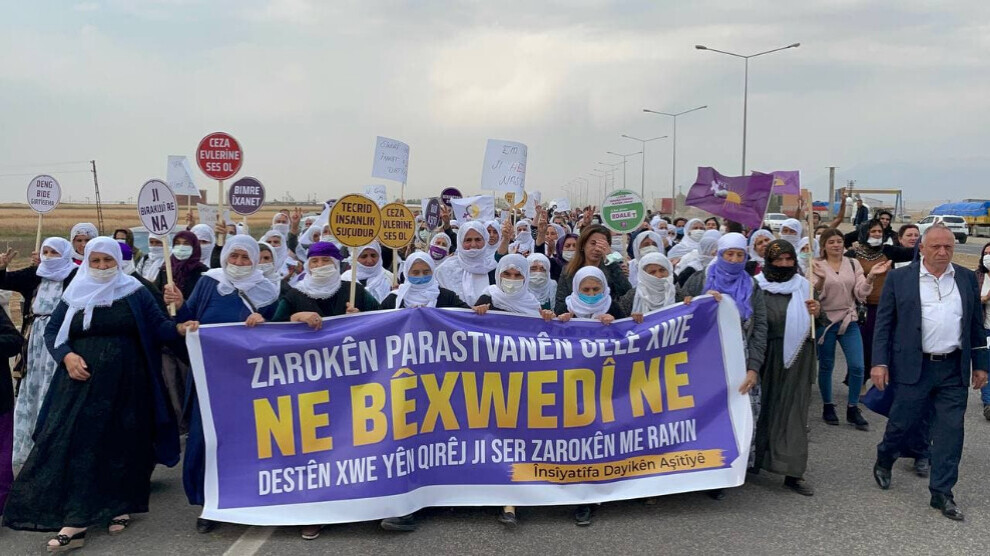 The Turkish state's use of chemical weapons against Kurds continues to take lives. While the international community remains silent on this issue, the Kurds are protesting out in the streets. Women marched in Silopi, Şırnak on Thursday against the Turkish state's massacres and use of chemical weapons. The protest march, which was joined by Peace Mothers from Batman, Siirt, Mardin, Nusaybin, Şırnak, and Kızıltepe, was held near the Khabur Border Crossing. During the march, the slogan "Bimre Ixanet" was repeatedly shouted and Esmer Çekmez of the Peace Mothers delivered a speech.
'They torture our children's bodies'
Noting that all mothers should oppose the deaths of their children, Çekmez said: "Do people who preach about Islam not notice these massacres? Is this how Islam should be? Is this fair? In Southern Kurdistan, brothers are murdering each other. Do you not see the torture of our children's bodies? Fear Allah. We, the Mothers of Peace, do not want this war to continue nor our children to be murdered."
Describing the torture of his guerrillas' bodies as inhumane, Çekmez said: "They would do to you what they did to my child today. May those who are responsible for our children's deaths and dismemberment of their bodies feel the same agony. Did we raise our children to be killed by them? The troops in front of me are the children of mothers just like me. What gives you the authority to order soldiers and guerrillas to kill each other? You pay the soldiers some pittance to attack our children. You're also sending them to their deaths. May Allah make you face even more tyrants."