Mothers: We won't sit in the house, we'll protest in the streets!
The mothers are a distinctive feature of the resistance actions taking place since the seizure by the AKP of the HDP-run municipalities of Amed, Mardin and Van.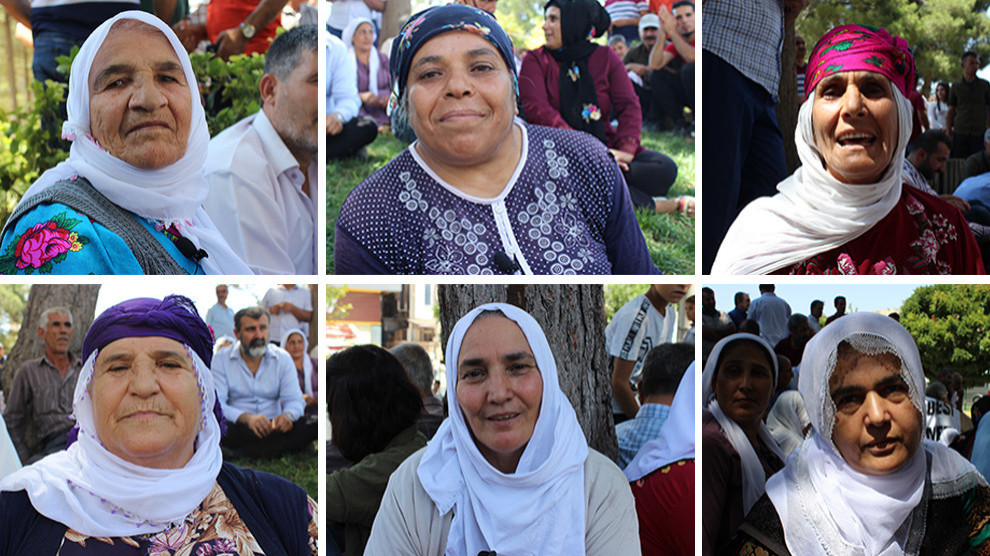 Mothers, who every day come to the Vigil in Mardin, said that they are ready to fight until they got their rights back.
Mothers who were exposed to pepper gas and police-military violence in the first days of the protests added: "They won't scare us off with pepper gas nor truncheon, we will continue to be behind our co-chairs."
Since the first day of the protests in all areas of resistance you can find, one o the mothers, Süreyya Yilmaz. "We will get our municipality back. - she said - That municipality is ours."
Ayten Günay, another mother said she cannot accept the trustee appointed to replace the co-mayor she has elected: "I won't have any demand for the trustee. This is my father's place, my grandfathers. We can manage our own lands. We are here to protect our votes, ourselves and our will. We will continue our struggle for as long as we have to."
'Defending our will'
Another mother who join the Vigil every day is Şükriye Ögmen. "This municipality is our municipality. - she said - The mayors are our people. We can't leave them alone. I am here to defend my own will, I'm here for us."
Havlet Öncü, another mother, said: "What they do today is an injustice, something unlawful. The municipality is ours."
Öncü added: "They should be ashamed of the reasons they have presented to appoint the trustees and dismiss our mayors.  We have worked hard to win this municipality. We will not allow them to frustrate our labor. This will be inhumane. I will be on the street until I have enough strength."
'We are against repression'
Sebahat Irmak, is another mother and she said: "I am here today to fight for our gains. The Kurds owe all their gains to the bloodshed of young people. I could not stay in my house in silent, I came here to shout against this injustice. I am facing repression but I cannot accept wrongdoing. I will come every day to the actions. Everyone who has a conscience who is muslim should do this. Don't sit at home. Allah doesn't forgive the silent one."
Ayşe Saman said that resistance and struggle have always been features of the fate of the Kurds and added: "I came to resist today. I learned that we have to resist. And this is what I taught to my children. M children have paid a price. I will respond to injustice not in my house in silentl, but here in the streets, resisting."