Kongreya Star goes to Congress in Heseke
The First Congress will discuss things the women's organisation has done and what needs to be done.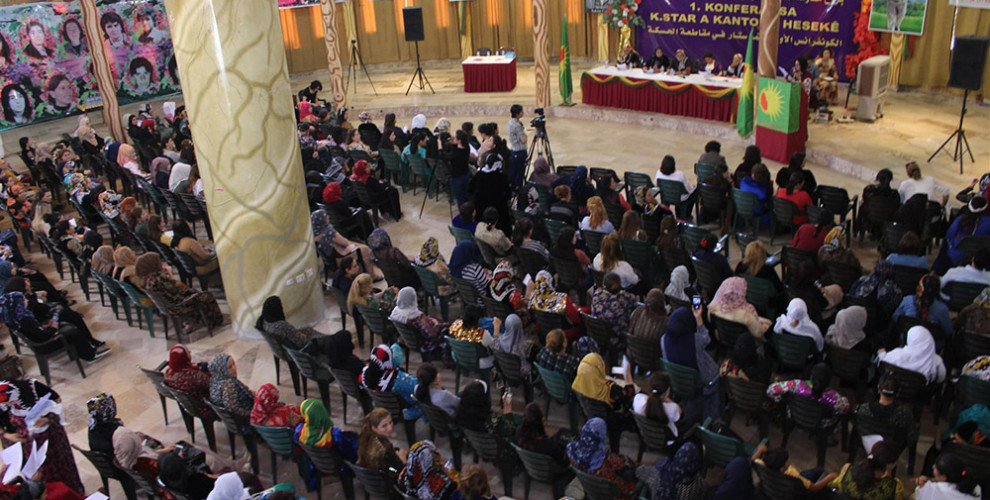 The first Congress of Kongreya Star in Heseke began on Wednesday.
The conference takes place in the Beylesan Hall in Amude and 350 delegates from all districts and towns of the Canton of Heseke are attending.
The conference began with a minute of silence in memory of the martyrs. After that Zelal Ciger, member of Kongreya Star Coordination Committee, said in her speech that the fascist forces want to destroy the Rojava Revolution and wage a war against the revolution.
"Our revolution will reach its goal with the will and force of our people. The key role leading to the victory in the revolution is the role played by women. Kongreya Star has organized efforts and has reached women from all sections of society. Women are the pioneers of the Rojava Revolution. "
Zelal Ciger also stressed that the role of women should be further strengthened in all areas of life.
Following the speech, Welîda Botî, Helíma Ehmed, Muña Yousif, Gulistan Tahir and Zeynep Mihemed were elected at the presidency.
The conference continued with the reading of the work by Kurdish People's Leader Abdullah Öcalan dedicated to women issues.
The conference will end with the reading of the 2-year study report of Kongreya Star Heseke and delegates will elect the members of Kongreya Star Heseke Canton Council.