Kongreya Star condemns the isolation of Öcalan
The Kobanê Coordination of the women's umbrella organisation Kongreya Star has condemned the isolation of Abdullah Öcalan on the prison island of Imrali and called on human rights organisations to act for political prisoners in Turkey.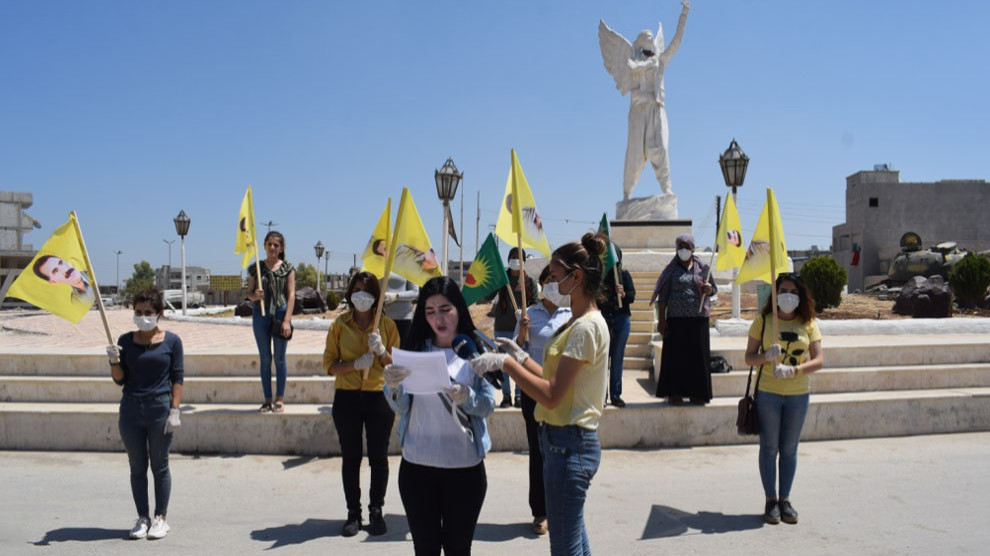 The coordination of the north-east Syrian women's umbrella organisation Kongreya Star for the Euphrates region has condemned the ongoing isolation of the Kurdish people's leader Abdullah Öcalan on the Turkish prison island of Imrali and called on international women's and human rights organisations to take action. According to reports from human rights and prison monitoring organisations, prison conditions have deteriorated with the Coronavirus pandemic. Almost every day more and more cases of infection with the virus are reported in the country's prisons. Prisoners such as Öcalan are also at high risk of contracting Covid-19 due to their age and chronic respiratory disease. All other inmates, especially the political prisoners excluded from the so-called "Corona Amnesty", are also defenceless against the virus.
"We demand that relevant organizations and institutions take action for Öcalan, his fellow prisoners and all other political prisoners in Turkey," said Dîjle Heyder at a rally on Sunday at the Free Woman's Square in Kobanê. She pointed out that the Turkish state has deliberately left the political prisoners to a "mass death"; while only those who fit the government are released. The activist also criticised the fact that no reliable information about the condition of the Imrali prisoners has been made public and condemned their contact ban. Family visits to Öcalan and the other inmates in the island prison in the Sea of Marmara have remained almost completely banned in recent years. Since 2019, all applications for visits to lawyers have been strictly rejected.
"The isolation on Imrali is constantly deepening. This situation frightens and worries our movement day after day," said Heyder. The ignoring attitude of international organisations in view of the seriousness of the human rights violations that Öcalan and his fellow prisoners are facing is also hard to bear, she said. Heyder announced further actions by Kongreya Star to draw public attention to the situation in Turkish prisons.
CPT: Condition on Imrali "unacceptable"
The Council of Europe's Committee for the Prevention of Torture (CPT) recently called the situation on Imrali "unacceptable". A report published on Wednesday states that the detainees are in absolute solitary confinement for up to nine hours a week. As a group they are only allowed to meet for six hours a week and in pairs for a further three hours a week. This means 159 hours of 168 hours of isolation per week. On weekends Abdullah Öcalan, Ömer Hayri Konar, Hamili Yıldırım and Veysi Aktaş are even isolated around the clock. "In the opinion of the committee, such a state of affairs is unacceptable," says the CPT.
RELATED NEWS: