KCDP General Secretary: Nobody can stop us from living a free life
Fidan Ataselim from the platform "We Will Stop Femicides" points to the anti-women development in Turkey and says: "We want to live freely, whether with shorts or headscarf, and nobody will be able to stop that."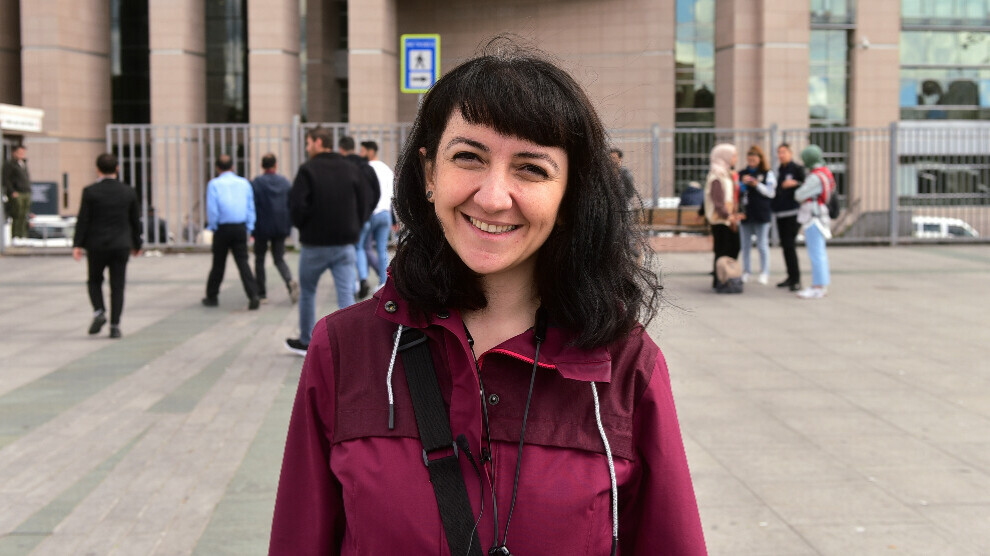 The women-led popular uprising in Eastern Kurdistan and Iran, ignited by the murder of 22-year-old Jina Mahsa Amini four weeks ago, continues. Worldwide protests in solidarity with the Kurdish woman, who was tortured to death in the custody of Iran's morality police, and the revolt also continue. In Turkey, the western metropolis of Istanbul, with its large Iranian-born community, is one of the centres of the global protests. The platform "We Will Stop Femicides" (KCDP) has been fighting for women's rights for years and stands united behind all women who are committed to freedom in Iran. KCDP activists are also at the forefront of the protests of Istanbul's exile community from Iran. But the association, itself a target of the anti-women policies of a reactionary government, is in danger of being banned. In an interview with ANF, KCDP General Secretary Fidan Ataselim stressed that the repression in Iran is not far from Turkey.
IN TURKEY, SOME TAKE IRAN AS A MODEL
Ataselim pointed out that there are people in Turkey who take Iran as a model. A concrete example of this is the anti-women policy. The dangerous process of rolling back women's rights, which began with Turkey's withdrawal from the Istanbul Convention, has also led to concert bans, said Fidan Ataselim: "The singer Gülşen Bayraktar Çolakoğlu was even arrested. This was not about the words she said, but about the way she was dressed and waving the rainbow flag. The repression against Gülşen is meant to intimidate all artists. A part of society is misogynistic. In their opinion, women can only live if they are slaves to men. The attempt to ban our association is a link in this chain. This is a very dangerous development."
THE RULERS PROTECT AND ENCOURAGE THE PERPETRATORS
With the signing of the Istanbul Convention, the number of femicides in Turkey became visible and decreased, Ataselim noted. However, due to the government's anti-women policies, it has increased again. The number of femicides is also increasing due to the state of emergency and the economic crisis, the women's rights activist stressed: "Because in such repressive times, the government's attitude is crucial. It encourages men and pats them on the back. It is trying to weaken women," she said.
THOSE WHO TOUCH ALIMONY ARE TAMPERING WITH CIVIL LAW
According to Fidan Ataselim, the weakening of women has been achieved gradually. She noted that the discourse, which was initially directed against women's laughter and short trousers, now includes discussion on maintenance. "To touch the right to alimony is to interfere with civil law. In that case, all our rights in terms of gender equality are at risk. These issues are being put on the agenda by people who are aligned with the mullah regime."
THE CONSTITUTION IS BEING TRAMPLED ON
The laws are being bent and twisted, the constitution is being violated and discrimination is being paved the way step by step, Ataselim pointed out. On the one hand, women's achievements are being attacked, and on the other hand, those who campaign against it are now wanted to be silenced by the Disinformation Act. Ataselim remarked that society is resisting these reactionary impositions: "Society is making progress and a general change in a positive sense is taking place. We are also experiencing this in our own struggle. However, since this change means the replacement of the AKP/MHP government, the latter is trying to play its last trump card to prevent the loss of power."
"NOBODY CAN STOP US FROM LIVING A FREE LIFE"
One of the goals of the political struggle is to get rid of this government, stressed Fidan Ataselim, adding, "Will everything be fine when this government is gone? Of course not! But it will definitely be better than now. We will no longer have to fight just to survive, new doors will open for us, we will be able to fight for more extensive rights. No one will be able to stop us women from living freely - whether with shorts or headscarves. We will not allow any interference in our clothes."