International Working Women's Day everywhere!
Women take to streets everywhere despite the pandemic.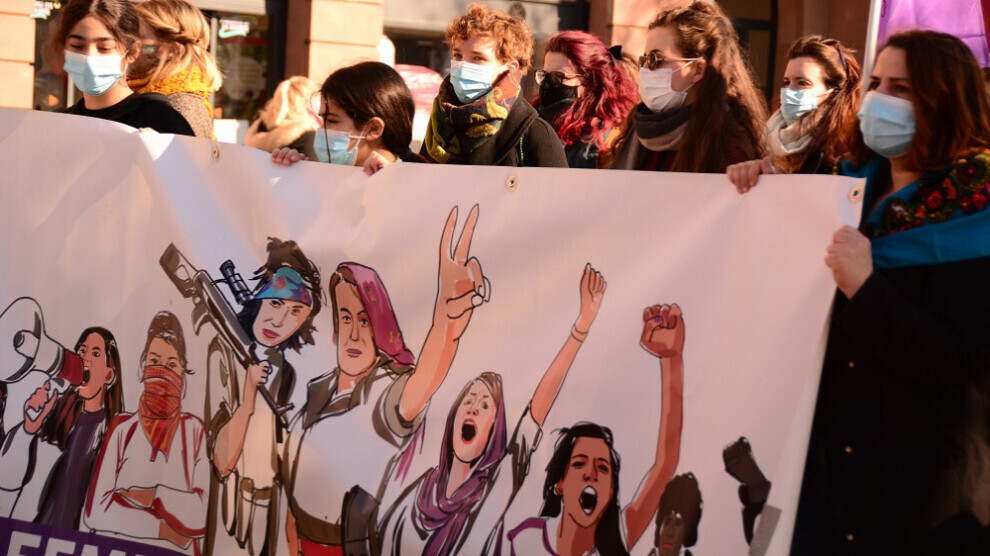 Despite the coronavirus pandemic many demonstrations and actions are taking place throughout the weekend to mark 8 March, International Working Women's Day.
Marches were held in Strasbourg, France. Many feminists and left women's organizations participated in the march led by Zin Women's Initiative. International Working Women's Day was also celebrated in the French cities of Mulhouse, Strasbourg and Lorient and in the German cities of Düsseldorf, Heilbronn and Lübeck.
In Zurich a number of women has been taken into custody, following heavy attacks by police on demonstrators.
Strasbourg
Hundreds of women came together in Strasbourg to celebrate 8 March on Saturday. The women gathered at the Place de L'Etoile to join the demonstration organised by Zin Women's Initiative.
Mulhouse
International Working Women's Day was also celebrated in Mulhouse where the Feminist Collective organized a march which started on Place Franklin and ended at Place de la Bourse.
MPs and council members also joined the march demanding the French government to act after the confession of Turkish Secret Services Officials admitting that they carried out the Paris Massacre on 9 January 2012, in which Sakine Cansız (Sara) Fidan Doğan (Rojbin) and Leyla Şaylemez were killed.
Lorient
Kurdish women living in Lorient joined the march for Women's Day.
The event, held at Place Aristide-Briand.
Kurds carried photos of Kurdish Women's revolutionaries Sakine Cansız (Sara) Fidan Doğan (Rojbin) and Leyla Şaylemez.
Kassel
From France to Germany. A march was held in the city of Kassel.
In addition to the giant TJK-E flag, banners reading "Adarê pirozbe to 8", "Jin, Jiyan, Azadi", YPJ, TEV-DEM flags were carried by activists.
Düsseldorf 
A crowded march took place in the city of Düsseldorf organised by Kurdish women; YJK-E NRW and many German women's groups such as Tamil Women, SDS, SDAJ, See Red and FAD.
Internationalists from Rojava sent a message to the march, while KNK representative Nilüfer Koç addressed the crowd.
Heilbronn
Women also got together in Heilbronn to celebrate 8 March. Artists Zeynep Enhas and Garip Nurhak also attended the celebration held at Kiliansplatz.

Lübeck
Women also gathered in the city of Lübeck to celebrate International Working Women's Day.
Zurich
In Zurich police tried to prevent the women from marching and attacked the crowd taking many activists into custody. 
The march was promoted by the Kurdish Women's Movement and feminist women, who had gathered in Zürich Helvetia Square at noon.
When police refused to let the women entering the square, activists then blocked the streets around the square. 
The police attacked the women and took many into custody.