IHD says women were victims of 202 rights violations in Aegean region
According to the last 6-month report released by the IHD, 202 women experienced rights violations in the Aegean region.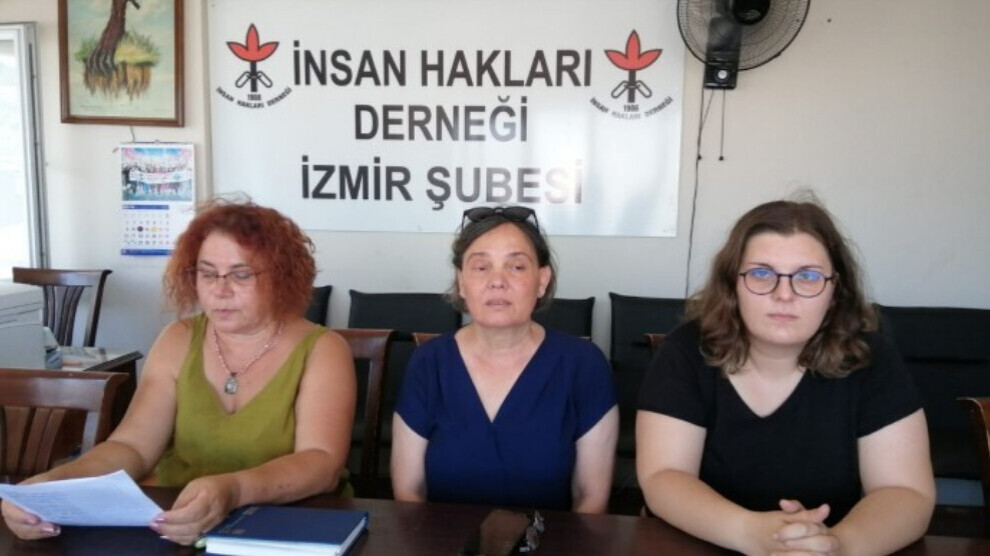 The Human Rights Association (IHD) Izmir Branch Women's Commission published the "Women's rights violation" report covering the months of January, February, March, April, May and June 2022.
The report was prepared on the basis of the application made to the association and the data compiled from the press. The report recorded violations from the provinces of Aydın, Afyon, Balıkesir, Muğla, Manisa, Uşak, Burdur, Isparta, Denizli, Kütahya and İzmir.
IHD Izmir Women's Commission member Cemile Karakaya said that violations of rights are increasing in prisons and added: "Women prisoners continue to be exposed to dozens of violations every day by adopting oppressive and incompatible methods with human dignity."
Torture and ill-treatment
Karakaya pointed out that the women who defended the Istanbul Convention were detained and suffered torture and ill-treatment and added: "Women have been subjected to judicial harassment, investigations and lawsuits have been opened against them."
202 rights violations recorded
Karakaya said: "Violence against women is a violation of human rights and a crime" and demanded an end to it. Karakaya listed the rights violations data of the last 6 months as follows:
* "Battering, violence, injury to women 21
* Harassment, rape, sexual assault against women 6
* Femicide 32
*Unjust reduction in femicides, impunity, bias in judgment, 2
* Sexual abuse 8
* Female activist detention, following, investigation 2
* Battered women in custody by law enforcement officers, strip searches 3
* Reverse handcuffs in custody 2
* Torture and ill-treatment during detention 3
* Threats, stalking with the excuse of family member 2
* Blackmail, hostage taking, threats against women 9
* Suspected death of woman 52
* Transgender murder 1
* Disappeared 3
* Following by and phone threats by law enforcement 5
* Punishment for self defense 1
* Forced prostitution 4
* Spreading hate crimes against women on social media 1
* Transgender murder 2
* Burning, arson, burning with chemicals 6
* Sexual harassment 7
* Attempted to kill woman 1
* Judicial harassment 2
* Attempted suicide due to ill-treatment 1
* Violence due to gender 2
* Disciplinary penalties without legal basis in prisons 1
* Failure of state officials to combat violence against women 2
* Abuse in custody 2
* Female prisoners who start a death fast due to prison conditions 1
* Failure to provide a hygienic environment for ill female prisoners 1
* Extension of the conditional release date of female prisoners for arbitrary reasons 5
* Unhygienic quarantine conditions in prison 1
* Malnutrition of female prisoners due to insufficient food in prison conditions 1
* Inability of female prisoners to meet their needs due to high canteen prices 1
* Delayed mail in prison conditions and victimization in communication 1
* Not giving the personal belongings of the transferred prisoners 1
* Arbitrary prevention of sports activities in prisons by the administration 1
* Grievance caused by high increases in postal prices 1
* Lack of adequate quarantine wards 1
* Handcuffed examination at the hospital 1
* Having too many prisoners in the wards 1
* Limitation on the number of books 1
*The seizure of the magazines by saying that they are out of date during the ward searches 1
*Total: 202"