Hevrin Khalaf Square inaugurated in Lyon
Hevrin Khalaf Square was officially inaugurated by the Lyon City Council in France.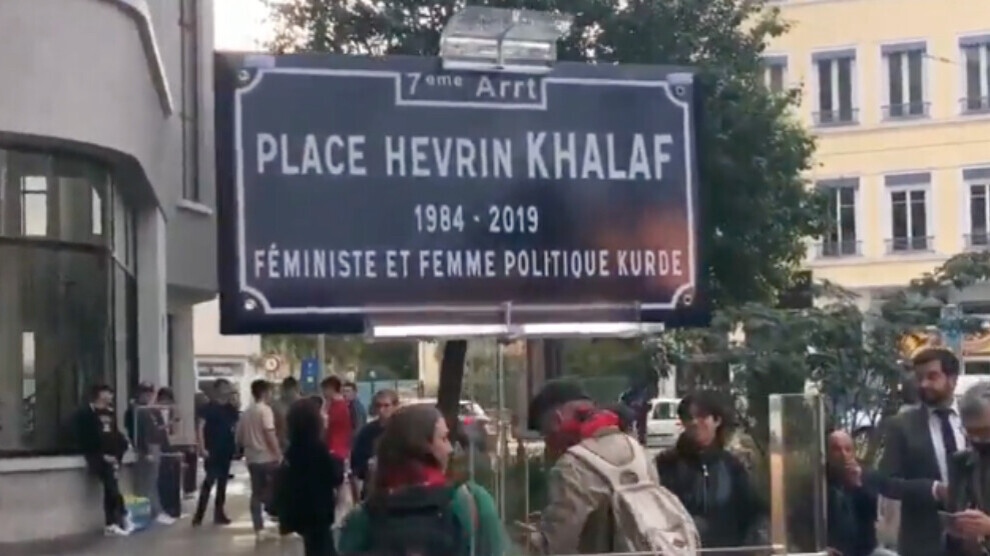 The official opening ceremony of Hevrin Khalaf (Hevrîn Xelef) Square in Lyon, France was held on Tuesday. Franny Dubot, mayor of Lyon's 7th District, and Sonia Zdorovdzoff, responsible for International Solidarity in Lyon City Council, attended the opening.
A signboard reading 'Hevrin Khalaf Square, 1984-2019, Feminist and Kurdish Female Politician' was erected in the square which is located between Marseille and Salomon-Reinach streets in the La Guillotière neighbourhood.
Hevrin Khalaf's name was chosen as part of mayor Gregory Doucet's efforts to give the streets women's names. During its last meeting on July 8 before the summer vacation, the Lyon City Council approved giving Hevrin Khalaf's name to a square in Guillotière.
"The 7th arrondissement and the city council want to praise the Kurdish people's struggle against the Islamic State, and to congratulate all men and women who are striving for peace and democracy in Syria," Zdorovdzoff said.
Thierry Lamberthod, head of the Lyon Kurdish Friendship Association, welcomed the decision, saying, "If a voice for the Kurds and peace in the Middle East fades away, we will follow in her/his footsteps here and there."
This is the first time Khalaf's name was given to a square in France. Born on November 15, 1984, the Kurdish female politician was brutally murdered on October 12, 2019, by mercenary groups affiliated with the Turkish army near Girê Spî (Tal Abyad). Xelef, a member of the executive board of the Syrian Democratic Council (MSD), was also serving as the Secretary General of the Future Party of Syria.
RELATED NEWS: