Hearing of trial against TJA spokeswoman Ayşe Gökkan takes place today
The 22nd day of the trial against the imprisoned TJA spokeswoman Ayşe Gökkan will take place in Amed today. The politician and feminist face up to 35 years' imprisonment. The Kurdish women's movement called for solidarity.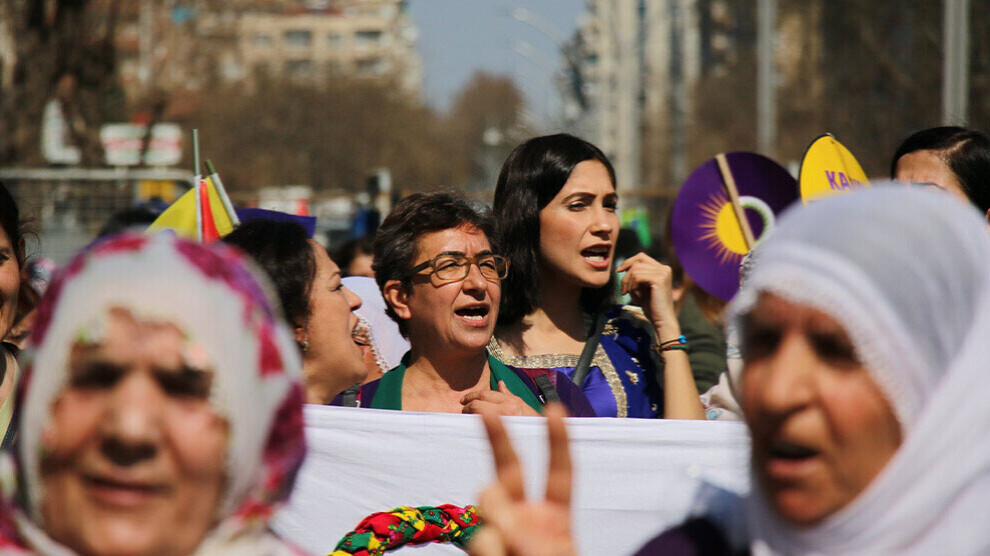 The trial of the Kurdish politician Ayşe Gökkan will continue today in Amed. The spokeswoman for the Free Women Movement (Tevgera Jinên Azad, TJA) faces up to 35 years' imprisonment for allegedly holding a leading position in a terrorist organization. The TJA calls for solidarity with Gökkan. "We are Kurds, we are women and we are here. We will tirelessly make our demands for freedom and equality heard," said a statement issued by the Kurdish women's movement.
Gökkan has been in jail since the end of January after an arrest warrant was issued for one of the more than 200 trials against her (at least 167 are individual cases). It is not her first time she has been in prison. The last time she was in jail was in 2017 for five months. She was also taken into police custody dozens of times. At the last hearing of this trial, on 23 June, an application demanding her release from prison was rejected because of the alleged "seriousness of the crime".
The trial of Ayşe Gökkan is being held in the 9th Large Criminal Chamber in Diyarbakir. There will be a rally in front of the courthouse.
Ayşe Gökkan: journalist, mayor, feminist
Ayşe Gökkan was born in Suruç in 1995 and studied journalism. She has already been taken into custody over 80 times, and the preliminary proceedings against her were usually based on so-called terrorist allegations. In 2009, Gökkan was elected mayor of Nusaybin with 83 percent of the vote. Most of the preliminary investigations against her have been carried out during her term in office. Gökkan was elected spokeswoman for the TJA in February 2020. In December of the same year, she was sentenced to eighteen months in prison in Mardin. During the trial, she was accused of staying in a restricted military area and causing property damage. The allegation goes back to an act of civil obedience in October 2013. At the time, Gökkan was mayor of Nusaybin and protested against the building of a wall on the border with Syria with a hunger strike.