HDP candidate Tosun: I'll be the voice of women of Sur
Remziye Tosun has been in prison with her baby girl during the curfew in Sur.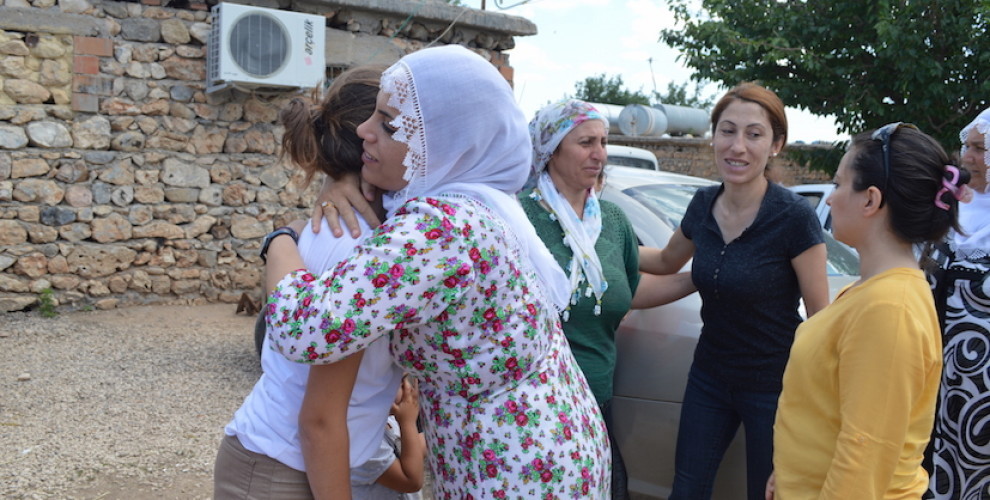 We heard her name for the first time when she was being sent to prison with her little baby girl after resisting for 96 days against the order to leave her house during the attacks and curfew imposed on Sur, the ancient district of Amed.
After 15 months in prison, Remziye Tosun was released and her house in Sur was demolished. She received psychological support to get through this trauma.
Tosun is now running as a candidate for Amed for the HDP (Peoples' Democratic Party) for the 24 June elections.
She is now preparing to go to the Parliament to be the voice of women who are victims of the state attacks against Sur.
Remziye Tosun continues to run the electoral campaign with enthusiasm and we went with her while she canvassed.
Women are especially out to meet Tosun in Amed's Kocaköy villages. Because they see her as one of them, thanks to her attitude and way of talking. "Everything will be much better", she tells mothers who have lost their children.
So, who is Remziye Tosun?
Remziye Tosun was born in Bağlar (Amed), she married when she was 18 years old and moved to Suriçi, in Fatihpasa borough and spent 20 years here.
Tosun, who has four children, did not want to leave home when the curfew was declared in Suriçi.
"During the curfew, - she recalls - doors were broken, our houses were turned into debris. I did not want to leave the house where we lived and I had put so much work into".
In Sur we were breathing
Tosun says: "We were breathing in Sur", because it was not like living in one of those high buildings which look like a prison. "We will have a very difficult economic situation. The poor were living in Sur".
Tosun's face brightens up when she describes her relations with neighbors in the area. "The day in Sur starts at 6 in the morning. - she said - We were knocking at each other door, picking up hoses and brooms to wash the streets. Solidarity was very strong. Fruits and vegetables growing in Hevsel Gardens came there. We were making our shopping more comfortable. The kids were on the streets. There was a sense of neighborhood".
She compares to her life in one of those high building that looks like a prison. "I am living here for a year and I do not even know a neighbor yet. But we all knew each other in the streets of Sur, by the 4-footed Minaret. When there was a wedding, or a loss neighbors informed each other immediately, and visited people together. If someone had a guest immediately neighbours would come to help and dinner was made".
I said Beritan is dead
Remziye Tosun said that she stayed at home with her 14-month-old baby Beritan during the attacks and curfew in Sur. "It was a very difficult time. I never forget the day they took us out of the house. [March 3rd 2016]. Beritan fainted because of the pepper spray. I could not get up because of the cough. I called her, she did not hear, she did not move. At that moment I said, "Beritan is dead".
Beritan came to her senses again and Tosun could give her milk. "My baby came back to life, but as a mother I can never forget the feeling of seeing her not moving".
Tosun was sent to prison with Beritan. "I was arrested - she said - because I did not want to leave our house, as they would demolish it".
Tosun was released after 15 months in prison, got psychological support with her daughter. Tosun tells us that once out of prison she didn't have the courage to go to Sur, to see the debris where her house once was. "I was burning inside", she said.
I want to be the women's voice
"My neighbours - says Tosun - are calling and congratulating me. They motivate me to succeed. They only asked to tell their story, how they were sent out of their homes". 
Tosun, saying that the period of the attacks and curfew has been a very traumatic one especially for women, adds: "Nobody can see how women are victimized and how they are crushed there. If I am elected I will be these women's voice. How can I forget the wailing of the women there, hungry out in the streets?".
Tosun said that "everybody knows that Turkey's democratisation will come about with the solution of the Kurdish question" and added that it is necessary to work to achieve the freedom of Kurdish People's Leader.