Conference in Amed: No free society without women's freedom
"We are women, we exist for our freedom and we fight for change" is the motto of a two-day conference of the women's movement TJA in Amed. Without women's freedom there can be no free society, it was said in the opening speech.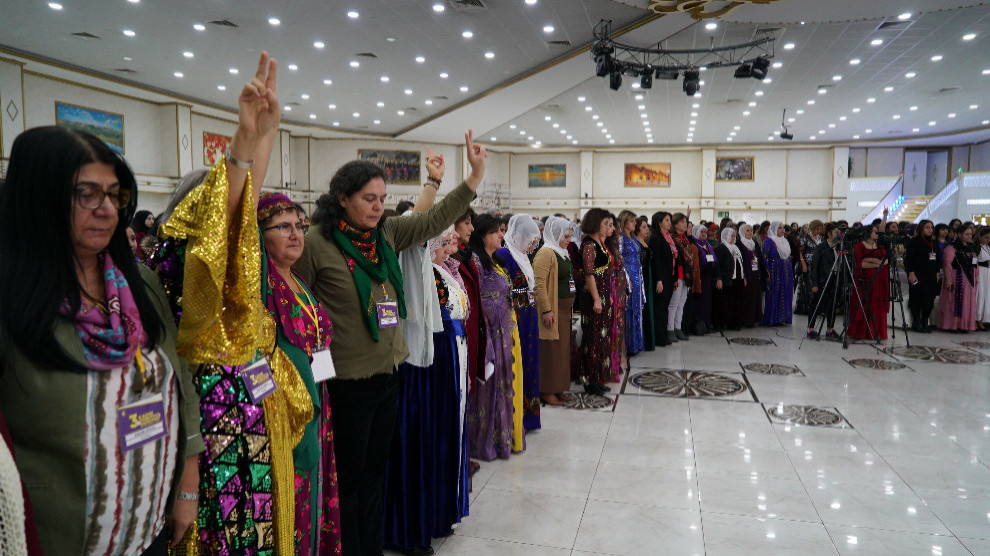 The Free Women's Movement (Tevgera Jinên Azad, TJA) is holding a conference in Amed (Diyarbakir) with 700 delegates from Turkey and Kurdistan. The two-day event is themed "We are women, we exist for our freedom and we fight for change". Among the participants are representatives of feminist organisations and institutions from England and South Kurdistan as well as the Peoples' Democratic Party (HDP), the Party of Democratic Regions (DBP), the Democratic Society Congress (HDK), the Council of Peace Mothers and other civil society organisations.
Before the beginning of the conference, there was lively dancing. After a minute's silence, a film about the past forty years of the women's liberation struggle was screened.
TJA activist Ayşe Gökkan said in the opening speech: "Women have been resisting throughout the Middle East. The TJA has taken over the legacy of a profound development and continues the resistance. TJA is the organisation of the women's movement in Northern Kurdistan, but its struggle has reached the whole world. Women in Kurdistan have not given up the struggle since the Neolithic until today. Even the attacks of the patriarchal AKP/MHP coalition cannot bring us to our knees. We do not bend. We are intended to be banned, but we continue our struggle for existence from a Kurdish perspective and with the paradigm of Abdullah Öcalan. There can be no free society without women's freedom. As long as one more woman is unfree, our struggle will continue."
Gökkan stressed that the isolation of Kurdish People's Leader Abdullah Öcalan was aimed at all Kurdish people and the society of Turkey and vowed that women would be standing up everywhere until the isolation is lifted.
After the opening address, HDP MP Dersim Dağ read out a message of greeting from her party colleagues Figen Yüksekdağ, Sebahat Tuncel, Selma Irmak and Çağlar Demirel, who have been held as political hostages in the Kandira prison for years. In the message the political prisoners wished the conference success.
The two-day conference will continue closed to the press.