Call for all women to take to the streets for freedom on March 8
Women call on all women who are impoverished, whose labor is stolen, who resist isolation, the power and state violence to take to the streets on March 8, International Working Women's Day.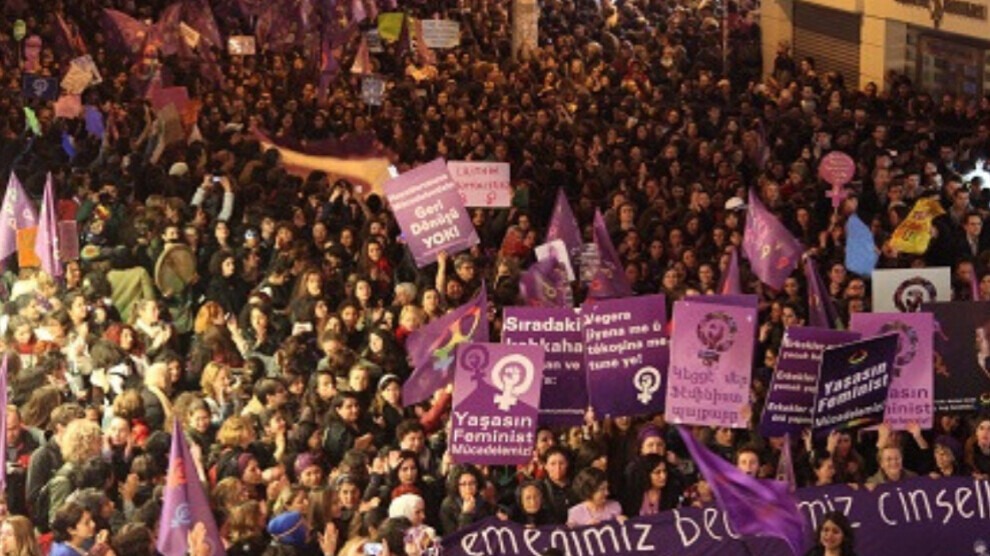 Like every year, women will take to the streets on March 8. However, programs of the activities vary in different parts of Turkey. Women in Istanbul will meet in front of Beşiktaş Pier in Kadıköy on March 5, at 18:00. The 8 March Women's Platform is calling on women to the streets this year with the motto "We Will Win Our Freedom". Women will be in the streets to condemn trustee appointments and the misogynist and LGBTI + policies of the government. They will also raise concern over the hunger strikes in Turkey's prisons and promote the Istanbul Convention and women's solidarity against male mentality including the Palace regime of Erdoğan and ISIS.
"WE WILL BE IN KADIKOY"
Speaking to the ANF on behalf of the 8 March Women's Platform, Sevgi Özlem Gülmez says that they are calling on all women who have been impoverished and fired with the Code 29 due to the epidemic and economic crisis. "With the pandemic all the burden is on women in the homes. On the one hand, high performance is expected in a remote working system, on the other hand, women have to take care of domestic work. But the men are not supposed to deal with that because domestic work is seen as something that women should do. This year, we are calling out to women who are oppressed under domestic work. On March 5 we will be in Kadıköy."
MANY LOST JOB
Sevgi Özlem Gülmez, a cook in the service sector, said: "My workplace has also been closed since November and I have been trying to live with short-time work allowance for months. Now everywhere is closed for me to find a work and cooking is not a profession I can do in another job. There are too many women employees in the service sector. There are also students and part-time employees, especially in the food industry. Since they are not registered, they could not receive any allowance".
WOMEN'S STRUGGLE CREATED AWARENESS
Gülmez added: "If many women know about the Istanbul Convention and 6284, it is thanks to women's organized struggle. Women are struggling wherever they are oppressed. As an employee in the service sector, I defend my rights that I have been deprived of with the pandemic. Kurdish women support the hunger strikes against isolation in Turkey's prisons. Women whose domestic work is exploited seek their rights. We stand against the government and male violence altogether. These struggles meet in a common space and now we are taking to the streets promoting those demands. Against the entire government crackdown, we are waiting for women to say 'We will win our freedom'."