'Aysel Tuğluk's right to life is violated'
In a statement before the hearing in the Kobanê Trial, women said that "Aysel Tuğluk's and sick prisoners' right to life are violated" and urged public opinion to raise a voice.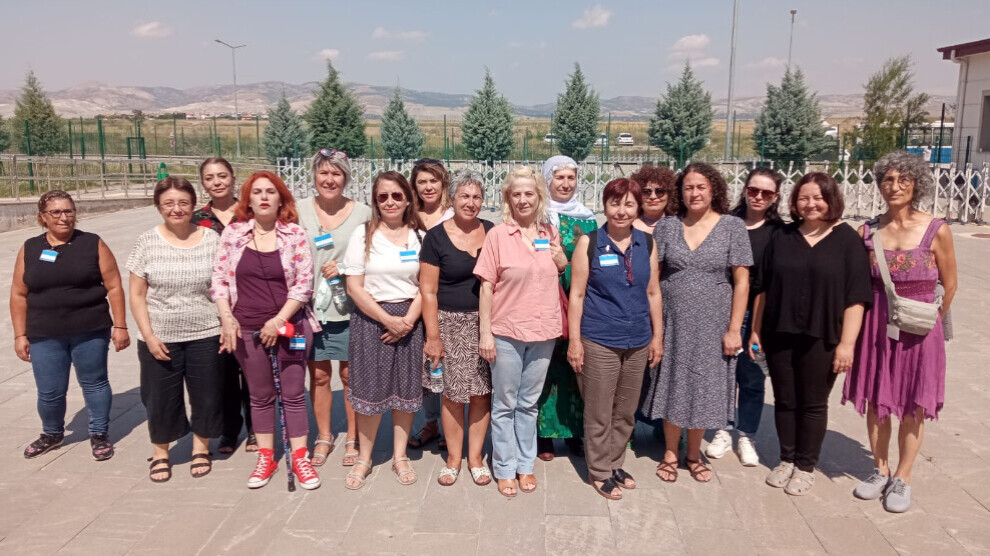 The 15th hearing in the Kobanê trial is taking place on the grounds of the Sincan prison complex. 108 people, among them former co-chairs and members of the HDP Central Executive Committee, are charged in the trial for protesting against Turkish support in the ISIS onslaught on Kobanê. 21 of the defendants are already behind bars.
Before the hearing at the Ankara 22nd High Criminal Court, the 1000 Women for Aysel Tuğluk Platform and politicians made a press statement in front of the Sincan Prison Campus for Aysel Tuğluk. The Kurdish politician is seriously ill, yet the court decided that she could plead at court.
Prof. Dr. Yasemin Özgün from the 1000 women for Aysel Tuğluk platform, Socialist Re-establishment Party (SYKP) Co-Chair Canan Yüce, Labour Movement Party (EHP) Ankara Provincial Spokeswoman Senem Deniz, Labour Party (EMEP) Deputy Chair Şükran Doğan, Peoples' Democratic Party (HDP) Advisory Board Member Şebnem Oğuz, Provincial Co-Spokeswoman of the Peoples' Democratic Congress (DTK), members of the Democratic Regions Party (DBP) and lawyers of the Lawyers Association for Freedom (ÖHD) joined the press statement.
'MOST FUNDAMENTAL RIGHTS VIOLATED'
Prof. Dr. Özgün stated that Tuğluk's progressing dementia made it impossible for her to stay in prison, saying, "Unfortunately, Aysel Tuğluk can no longer meet her needs and maintain her personal care without assistance. We all know that Tuğluk cannot not stay in prison based on medical examinations carried out by Kocaeli University Forensic Medicine Department months ago. However, Tuğluk remains in prison because of the reports issued by the Forensic Medicine Institute."
Özgün recalled that national and international legislation clearly allows the release of sick prisoners in order to continue their treatment outside effectively. "Aysel Tuğluk's and sick prisoners' right to life is violated. However, a healthy life is one of the most basic rights granted to everyone, without exception. Based on this fundamental right, Tuğluk must be released immediately in order to receive treatment. She has not been released for 505 days. Her illness is irrevocably getting worse. Her right to defence, which can be used effectively after treatment, has been de facto taken away from her. However, the court forces Tuğluk to testify, and if she is unable to do so, she is advised to come to the court and say that she cannot testify, or to be defended by her lawyer instead," Özgün remarked.
'PUBLIC SHOULD RAISE VOICE'
Özgün noted that during the hearing last week, the court decided that Tuğluk be 'prepared' to defend herself through video conferencing system on August 1. "The court violates her right to defend herself. If she is not given the opportunity to receive treatment, forcing Tuğluk to make a defence in court would be a violation of her right to defence. This attitude, which prevents her treatment, has become a form of torture. The torture of Tuğluk must end immediately. We urge the democratic public opinion of Turkey to embrace this call in the strongest way and to raise a voice for Tuğluk.
After the press statement, the women went to the courtroom where the hearing will be held.