Afrin to host March 8 women's meeting
March 8 preparations continue in Afrin. In the midst of the resistance, women organize solidarity and resistance and will be holding 3 days of activities under the lead of Kongra Star with guests coming in to the city.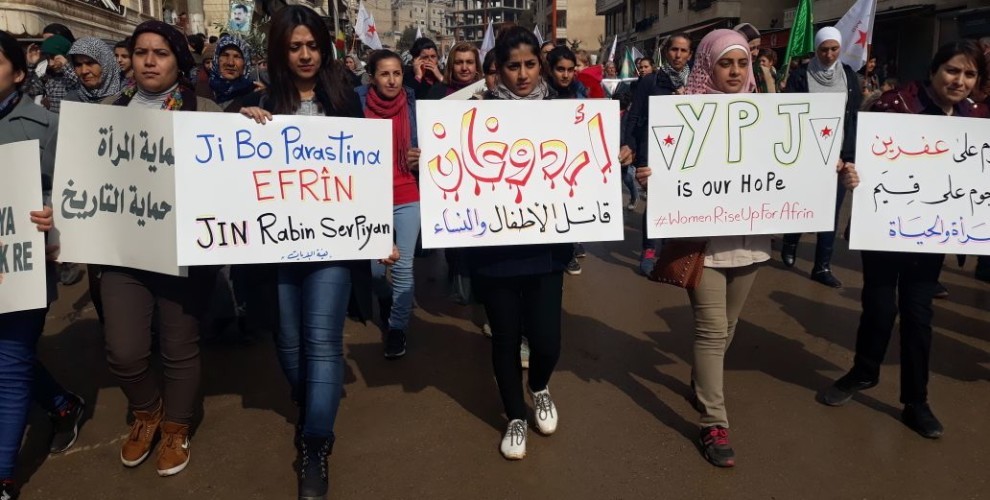 Women of Afrin, who have been resisting the Turkish state's and their allied ISIS/Al Qaeda gangs' invasion attacks for the last 45 days, are preparing for March 8. On March 8 International Working Women's Day, women from Shengal, Manbij, Aleppo, Damascus and Lebanon will be coming to Afrin to support the Resistance of the Age. A full agenda of activities about women's resistance will be held in the city under the lead of the Kongre Star between March 7 and 9.

Women started their journey days ago and left Qamishlo for Afrin today with a press statement, and will be reaching Kobanê by the evening. Thousands of women will join others in Kobanê, Manbij and Aleppo and are expected to arrive in Afrin tomorrow.

The program for the 3 days of activities under the lead of Kongra Star is as follows:

March 7: Women will be greeted by Kongra Star and visits will be held to women who have lost their relatives in the resistance.

March 8: Women will come together in the city center at 11 to hold a large scale march. After the march, a panel discussion about women's resistance in Afrin will be held in Qada Azadi.

March 9: There will be various women's meetings throughout Afrin where women will be talking about and discussing the resistance.

Also for the three days, stages will be put up throughout the city by the lead of Kewana Zêrîn and concerts and plays will be held in support of the resistance.

Thousands of women are expected to come together in the March 8 activities as part of the Resistance of the Age.