Çewlik: We will intensify our actions against violence
Female guerrilla commander Zozan Çewlik stated that they will increase the quality of their actions both in the mountains and the cities against state policies and institutions that legitimize violence against women.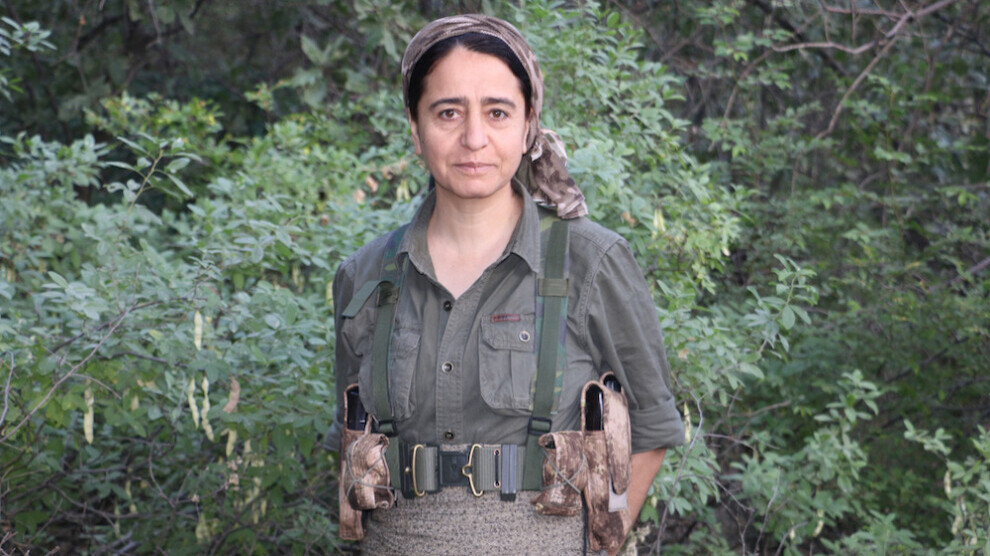 Zozan Çewlik, a commander of the women's guerrilla troop YJA-Star Central Headquarters Command and the Council of the Women's United Revolutionary Movement (KBDH) spoke about the development of the women's liberation struggle and the "Let's Destroy Fascism, Let's Win Our Freedom" campaign initiated by the HBDH and KBDH, in an interview she gave to the HBDH website.
Highlights from Çewlik's evaluations are as follows:
"We discuss the knowledge of the right life, the search for how to build it, the methods of meeting instead of enclosure, and the possibilities of opposition for women's freedom and alternative administrations against the failed state-type governments. Life should be relied on a free and ecological perspective.
The self-defense system of women, which bases on women's freedom and the principle of ecological life and democratic principles, where local culture and distinctness will be protected with the assurance of international solidarity, is trying to organize itself in a better way.
How should we read the Istanbul Convention on the agenda in Turkey? We can also state that the debate on the cancellation of the contract is due to the pressure of the religious sects on the regime. This is also a struggle for a regime change. In other words, AKP regime is a fascist dictatorial regime that tries to eliminate social agendas that would endanger its power.
The women's problem is a universal and social problem. The capitalist system is experiencing a great crisis. The concrete phase of this crisis takes place in the identity of women.
Resisting and fighting for your own freedom is the most legitimate right to self-defense. Freedom is to defend yourself. In this sense, the recent actions against the fascist attacks of the AKP and MHP government are very important.
As KBDH, above all, we consider ourselves responsible for the physical, social, political and social rights of all women. In this context, we will further organize ourselves against state policies and institutions that legitimize murder, rape and violence against women and we will increase the quality of our actions both in the mountains and in the cities. Primarily in Turkey's metropolises and the mountains of Kurdistan, we as female defense components will prosper our action methods and tactics and we will win our freedom by smashing fascism.
In this sense, everywhere is an area of struggle for us. It is time to develop more awareness of self-defense by creating a richness in tactics and methods of actions. In such a historic process, the "Let's Destroy Fascism, Let's Win Our Freedom" campaign initiated by the HBDH and KBDH is a very appropriate move. Today is the day to overthrow AKP-MHP fascism and to demolish the rapist mentality and system. The day is the day to win our freedom. For this reason, it is the day for youth, especially women, and all oppressed people to take action on the streets. The day is the day to create a free equal life."
RELATED NEWS: