6 Kurdish women revolutionaries commemorated in Silopi
TJA and HDP Women's Council commemorated 6 female revolutionaries who were murdered in Paris and Silopi in 2013 and 2016.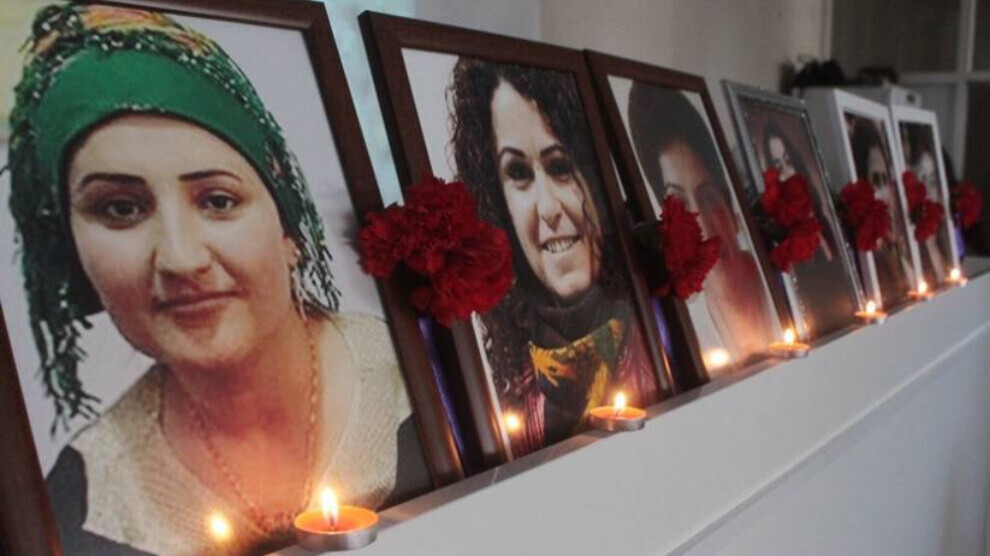 The Free Women's Movement (TJA-Tevgera Jinên Azad) and the HDP (Peoples' Democratic Party) Women's Council commemorated Kurdish Women's Movement members Fatma Uyar, Sêvê Demir, Pakize Nayır, who were murdered during the self-government resistance in Silopi district of Şırnak in 2016, and Sakine Cansiz, Fidan Doğan and Leyla Şaylemez who were murdered in Paris, France in 2013.
The families of 6 Kurdish women politicians who were murdered in Paris and Silopi, HDP Şırnak MPs Nuran İmir and Hasan Özgüneş, TJA activists, Peace Mothers and many others attended the commemoration.
After a minute of silence, HDP deputy Nuran İmir and Sêvê Demir's mother Sakine Demir spoke on behalf of the families of the three slain women.
Demir, who greeted the prisoners in prisons, said, "I condemn the massacres of women in the person of three slain women. No matter what happens today, mothers are shedding tears. Again, mothers become victims. I believe that if mothers join hands, this blood and tears would stop. Mothers should stand up and say enough to these massacres. There is so much struggle, I believe that peace and beauty will come to this country. Peace will be restored very soon. I also condemn the arrest of Leyla Güven. I congratulate all the prisoners on hunger strike and repeat my wishes for peace."
Speaking afterwards, HDP MP İmir stated that they have gone through a historic process and lost many people, notinh that those who lost their lives opened a new path for struggle. İmir continued, "Those in power murdered 6 of our female comrades. The ruling power targeting the struggling women have killed many of our friends as well. Those who lost their lives are part of our bodies. The Kurdish people's struggle for freedom is engaged in diplomacy with foreign states, that's why the government targeted them. They started this by massacring three women in Paris. After the 2009 Oslo process, three Kurdish women were murdered in Paris. These were not ordinary but deliberate things."
'OUR ANSWER IS NOT TO STEP BACK'
Stating that they will fight and protect the legacy left by women, İmir emphasized that they should be united to this end. She said, "We have been involved in activities with these women for a long time. We can reclaim these women only by fighting. Our duty is to protect our rights against this. We must fight together against fascism. We will continue the struggle legacy left by our martyrs. Once again we promise here. Our response to this is not to take a step back. Let no one ask why we paid such a high price, we paid this price for a free country."
The commemoration ended with the song composed by mother Demir for her daughter Sêvê Demir and cinevision screening.
2013: The Paris murders
Sakine Cansız, Fidan Doğan and Leyla Şaylemez were shot dead at the Kurdistan Information Center on January 9, 2013 on behalf of the Turkish intelligence service MIT. Sakine Cansız was a co-founder of the PKK and was considered a "living history" of the Kurdish women's liberation struggle during her lifetime. Fidan Doğan was a long-time representative of the KNK (Kurdistan National Congress) in Paris, and Leyla Şaylemez was an activist in the Kurdish youth movement. The perpetrator, Ömer Güney, a contract killer for the Turkish intelligence agency MIT, died of a brain tumor in a Paris hospital before the trial began.
2016: Executed during curfew
In December 2015, a curfew was imposed in the Silopi district in Şırnak province. On January 4, 2016, Sêvê Demir, Pakize Nayır and Fatma Uyar were murdered by Turkish security forces in the district. This was followed by a military siege in other Kurdish cities, including Nusaybin and Amed (Diyarbakir), which lasted several months and resulted in the deaths of hundreds of people.