Sipan Hemo: Russia betrayed the Kurds, but victory will be ours
Sipan Hemo stated that their "rightful and legitimate" resistance will continue in the face of the attempted invasion of Afrin, where the Turkish state commits civilian massacres and said: "Victory will certainly be ours."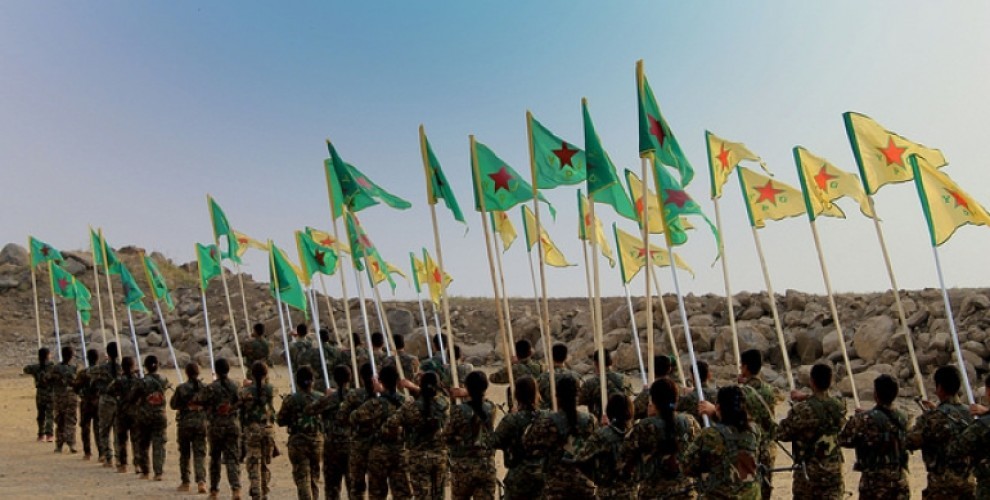 YPG Commander General Sipan Hemo stated that the Turkish media's job is "to create the foundations for the invasion of Afrin" and that they insisted on portraying the massacred civilians as fighters. Hemo said, "But the truth is, Erdogan is targeting villages and towns and massacring civilians."
The invading Turkish army launched an attack on Afrin on January 19 with 72 fighter jets. The invasion attack continued on the second and third days and the Turkish state has killed more than 10 civilians and wounded dozens to date. Turkish invasion, having received approval from Russia in killing women and children, is trying to enter Afrin over land since yesterday.
Hemo also said Russia betrayed them and stood in the war front against them together with the Turkish state and continued: "But I would like to underline this: With the YPG-YPJ and the SDF, a new history is being written in the struggle of our people. There will come a day when Russia will apologize to the Kurds for this lack of principles."
Excerpts from YPG Commander General Sipan Hemo's interview with ANHA are as follows:
THEY WANT TO CONTINUE THE INVASION OF AFRİN
Sipan Hemo stated that the Turkish state wants to continue the invasion they started in Jarablus with advancing 30 km into Afrin and added: "Erdoğan wants to expand his area of control and settle in the Muslim Brotherhood (Ikhwan al Muslimin) in these areas. He wants to reassert himself within the crisis in Syria. He has launched a show of force, and he is trying to do it over the invasion of Kurdish lands."
REPORTS OF FIRING ROCKETS TO REYHANLI AND KILIS "ABSOLUTELY NONSENSE"
Shortly after the invasion attempt was launched, Turkish special war media started to serve stories of YPG-YPJ forces attacking Kilis and Hatay with rockets.
Hemo called these stories "absolute nonsense" and denied the allegations in certain terms: "Our units have not targeted Kilis or any other province. Such absolute nonsense. This is certainly so. These allegations published on Turkish media only aim to legitimize the invasion of Afrin. We have also not targeted the hospital in Azaz in any way or form. It is highly possible that the Turkish state has deliberately targeted these hospitals because there are large-scale losses there. These attacks might have also been carried out by the Turkish jets."
Hemo pointed out that similar allegations had surfaced before the invasion of Jarablus as well.
ERDOĞAN MASSACRES CIVILIANS
Hemo said Erdoğan targets villages and towns and massacres civilians: "None of the information published in media organs under Erdoğan's control have any ties to the truth. What is happening today in Afrin is the direct targeting and massacring of civilians. Moreover, this media is the one that has been trying to create the basis for the invasion of Afrin and these massacres for two months.
The fact of the matter is, Erdoğan calling the civilians he massacred 'fighters' is because he sees all Kurds as fighters. That is how he thinks he has the right to kill any Kurd. That is why he insists on calling the civilians he massacred 'fighters' and 'soldiers'. But the truth is, Erdoğan targets villages and towns and massacres civilians."
RUSSIA BETRAYED US
YPG Commander General Sipan Hemo said the following on Russia, who he says has joined the war front against them in an alliance with the Turkish state: "For two years, Russian forces have been in Afrin, and they have claimed that they will resolve certain issues working together with Kurds. They constantly said a solution without Kurds is not possible.
We had certain arrangements with Russia. But Russia suddenly disregarded these agreements and betrayed us. They have clearly sold us out. Because they used to say a solution without Kurds is not possible, and claim that they would resolve the issues together with Kurds. But what is happening now has exposed the reality of Russia."
RUSSIA WILL APOLOGIZE
Hemo said approving the invasion of Afrin in return for some deals with the Turkish state shows that Russia is a "state without principles" and said: "But I would like to underline this: With the YPG-YPJ and the SDF, a new history is being written in the struggle of our people. There will come a day when Russia will apologize to the Kurds for this lack of principles."
THE RESISTANCE IS RIGHTFUL AND LEGITIMATE
Hemo stressed that they will achieve victory through growing the spirit of resistance that developed in Kobanê further in Afrin and added: "We are a people who defend freedom. Our stance has been clear since the beginning. We will resist the invasion attacks by the Turkish state. Together with our people, we will increase our resistance. This is not the first, nor the last, resistance for us. The spirit of resistance that developed in Kobanê will grow in Afrin and achieve victory. We draw our strength and our morale from our people. Victory will certainly be ours. Because our resistance is rightful and legitimate."