Make Rojava green again, a book by the Internationalist Commune
Profits from sales will be used to improve internationalist work.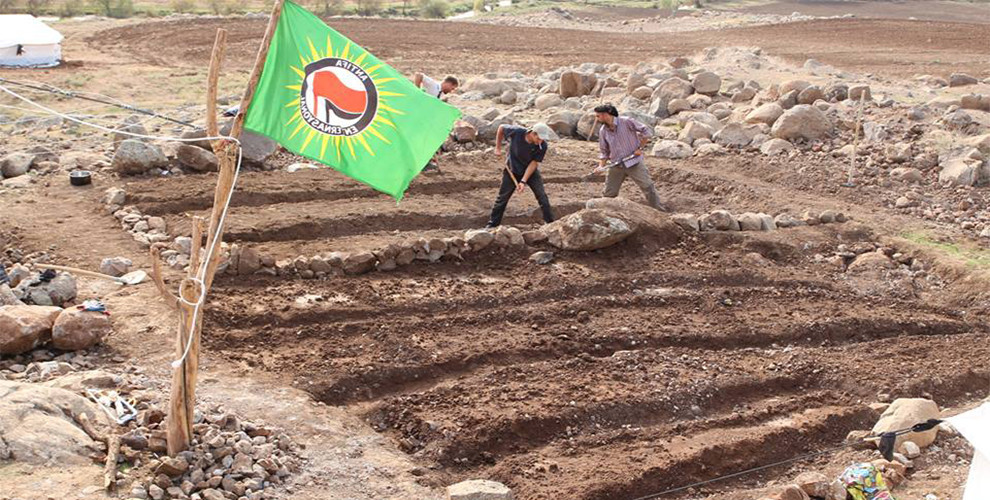 Six years ago the Rojava Revolution began.
Supported by all socialist-revolutionary movements, the Kurdish Freedom Movement continues to build new life with the people living there.
The Rojava International Commune has launched a new campaign to ensure that revolutionary movements are more integrated with the revolution.
The sale money of the book "Make Rojava green again" will be used to develop and accelerate internationalist work in Rojava.
The campaign will continue until 6 August and can be found here https://www.crowdfunder.co.uk/make-rojava-green-again
The Internationalist Rojava Commune has recently opened an Academy to house internationalists who come to Rojava and want to learn about the principles of the Revolution.
Likewise the Commune is also working to create ecological co-operatives to help the people to reforest the environment.
The book "Make Rojava green again" tells of how Rojava people rebuilt their lives, while at the same time telling how the YPG-YPJ (People's and Women's Defense Units) continued to fight against DAESH (ISIS) mercenaries. It also tells of the historic Kobanê resistance.
The Democratic-Ecological Woman paradigm shows how to fight against the liberal paradigm and capitalist modernity.
The Commune underlined how "Rojava needs world-wide support more than ever. This support should go through the media to spread the news and show the practice of a new model and way of making politics".
The Commune pointed out that "doctors, engineers, translators are needed in Rojava. The idea is developing revolutionary solidarity with the idea that everybody who wants to become part of the revolution in Rojava should take part in it with new ideas and information".
Remarking that the state authority and right wing movements in the western world have increased, the Commune criticized the inadequate reaction of the revolutionary movements.
"Fascism makes itself felt on society much more than before. This is what the Rojava Revolution offers to counter this passive response: we need to learn from the Kurdish movement to organize and build the revolution".
Dozens of internationalists have joined the Rojava Revolution, and many have lost their life.
There is a need for a system to organize internationalist work said the Commune, underlining that "in Rojava for a long time there have been journalists and academics studying this revolution. But this is not enough. Our first step has been to establish an academy for internationalists in Rojava. There we will organized political, cultural education, language courses and collective practical studies. This will result in local participation".
Inviting everyone to organize and support the revolution in Rojava and take part in the activities of the International Commune, the final appeal is to read the book and become a part of this historic revolution.