Gangs force Yazidis in Afrin to convert to Islam
The Faylaq Al Sham gangs in Turkish-occupied Afrin force Yazidi children to go to mosques and try to convert them to Islam. The Qatiba al-Hamzat gangs have confiscated several schools and houses that belonged to the Alevis to turn them into mosques.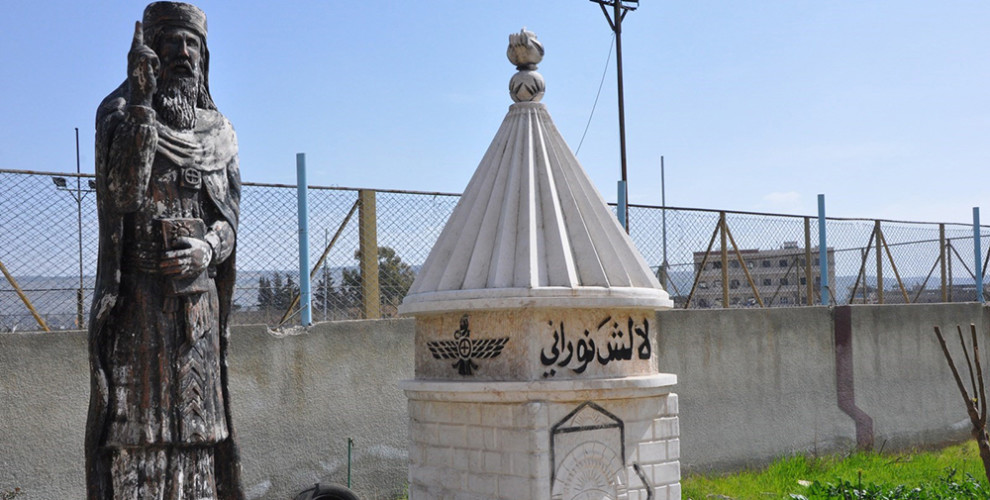 The invading Turkish army's gangs continue to implement practices geared towards changing the demographics and assimilation.
The gangs had looted the historic and sacred sites that belonged to Yazidis and Alevis as soon as they invaded Afrin. Lately, the gangs have been focusing on assimilation and forced conversion efforts against Yazidis and Alevis.
The Faylaq al-Sham gangs under the Ankara regime force Yazidi children from Afrin to go to mosques while the Qatiba al-Hamzat gangs turn houses that belong to Alevis into mosques and sharia schools.
According to ANHA, the Turkish state allied Faylaq al-Sham gangs have been forcing Yazidi children from the Basufan village of the Sherawa district to go to mosques. The children are forced to learn a strict version of Islam and the Quran.
A source reported that a citizen named X.K. was tortured by the gangs after objecting to having their child being taken to the mosque.
The same source said an unidentified young Yazidi woman was abducted by the gangs and taken to an unknown location.
The assimilation practices are forced upon not just Yazidis, but also the Alevis of Afrin.
The Qatibeya al-Hamzat gang group turned the school in the Kaxrê village of the Mabata district into a sharia school which only covers Islamic subjects. The same gangs reportedly confiscated the house of an Alevi named Henan Ereba to use as a mosque.
Meanwhile, in the same region 3 other houses of Alevis were confiscated by gangs and are being prepared for use as mosques and sharia schools.
The invaders continue to abduct civilians, torture them and steal their property every day in Afrin. Since the attacks that started on January 20, thousands of Afrin residents have suffered the same fate. Murder, execution, torture, robbery, looting, harassment and rape are in the lead in the list of systemic war crimes committed by the Turkish state in the region.
Amnesty International issued a statement by early August and said there are severe human rights violations in occupied Afrin, citing that Turkey (referred to as "invasion forces") is responsible for them. Human Rights Watch had issued a report by mid-June and announced that Turkey-backed groups in Afrin were confiscating and looting private property that belonged to Kurdish civilians.