Election enthusiasm in Shehba
The people of Shehba rushed to the polling stations for the commune co-chairs election in Northern Syria, saying: "We will get our communes working, and improve all aspects of services in terms of labour, water and social supplies."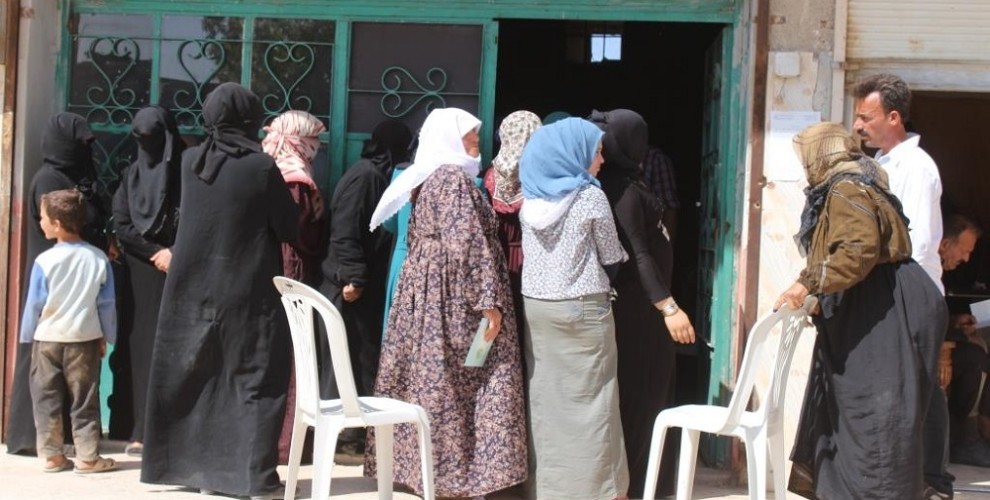 Peoples in Shehba Canton of Democratic Northern Syria Federation cast their votes for the elections of co-chairs for 3732 communes in the cantons of Qamishlo, Hesekê, Kobanê, Efrîn, Girê Spî and Shehba. The election started simultaneously in all stations at 08.00 in the morning with high morale, and ended at 20:00 local time, while it was prolonged until 22:00 in Efrîn Canton as people continued to cast their votes.
The people of Shehba Canton - one of the youngest cantons of the Democratic Northern Syrian Federation with a population of 40 thousand - cast their votes with high enthusiasm at the commune houses prepared for the elections.
Shehba Canton counts 46 communes and 146 candidates stand for election.
FAMILIES FROM IDLIB ELECT CO-CHAIRS FOR THEIR COMMUNES
Families from Idlib that moved to the Shehba region during the liberation of Efrîn and Shehba regions after their homes fell into the hands of al-Nusra gangs in 2014, cast their votes to elect co-chairs for their communes in Til Rifat and Kefernaya.
The families from Idlib said they never lost their hope to be able to return home, stating that they, inspired by the people of Shehba, have also established communes in order for a better organisation and management of their lives.
The families said: "We want to have a democratic system and culture when we return to Idlib one day. We took the first step to this end by establishing our communes. We will determine our co-chairs in this election and activate our communes."
THE PEOPLE'S VIEWS
The people of Shehba Canton have been asked about their views when they were at the polls.
Şîrîn Abdurrahman who cast her vote in Fafin district said: "There was no democracy with the regime, but we have it here. The regime would pressurize us to vote, but here we do it freely and choose our representatives."
An Arab local woman in the same district said:
"Women and men alike cast their votes today. We will choose who will be the co-chairs of our communes. Then our communes will start their work, and manage the labour, bread, water and other services in a better way. These commune elections are also the first stage of the Democratic Northern Syria Federation elections."
Race, in charge of a polling booth, said: "The communes in our villages will be our first step. And the elections do go well. With God's help everything will be better in the future. Everyone in Shehba will return on to their villages and homes, and establish their communes."
Abdulkadîr Hamdo of Hasacik village:
"Kurds and Arabs go to cast their votes together. We have no problems here, except for the attacks of the Turkish army on our villages. It will be better once we push them away from our territory."
Îmat Dervîş from Ahraz village:
"We, Arabs, Kurds and other peoples are all one here. There is no difference between us at all. Everyone is casting their votes today. To do that, we all have left all our daily routine and headed to the polling stations."