Actions against invaders in Afrin: Three vehicles destroyed
The SDF resistance against the invasion attacks of the Turkish army and so-called FSA gangs has entered its 15th day in Afrin. SDF destroyed three vehicles last night, killing several members of the Turkish army and gangs.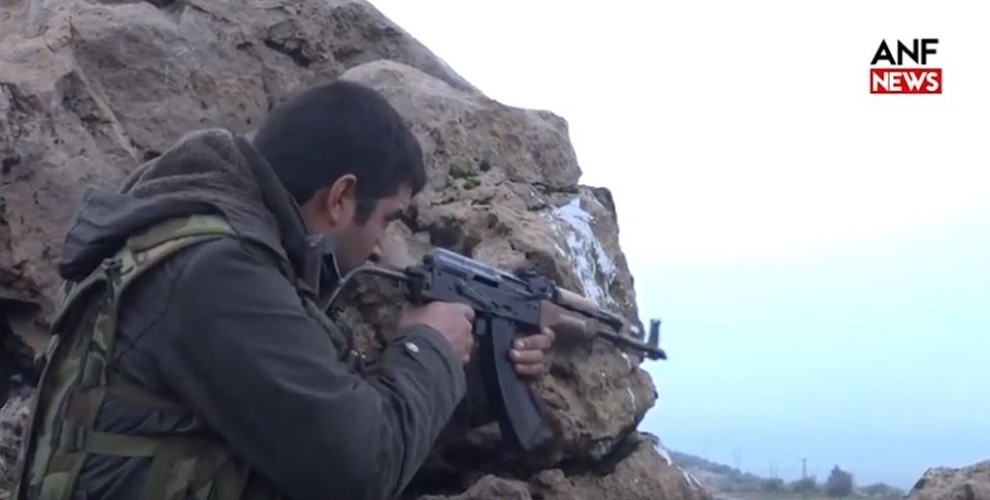 Invasion attacks by the Turkish army and affiliated FSA/Al-Qaeda gangs targeting Afrin Canton of Northern Syria continue for the 15th day. While Afrin was targeted by aerial strikes and howitzer attacks throughout last night, Syrian Democratic Forces (SDF) inflicted a heavy blow on invaders in many locations. Villages in Rajo and Cindires districts were hit by intense aerial bombardments last night.
SHERA FRONT
In Afrin's Shera district, Turkish helicopters shelled the Shiltahte village and surroundings. The villages of Dikmetas, Dêrsuwan and Baflon were targeted by artillery attacks with tanks.
In the surroundings of Qastel Cindo village and Gri Qastel, SDF fighters carried out an action against the Turkish army and gangs.
SDF fighters foiled an attempt of infiltration in Medana and surrounding villages.
AZAZ FRONT
SDF fighters carried out an action against Azaz with heavy weaponry, which reportedly left many members of the gangs dead.
BILBILE FRONT
In the district of Bilbile, which witnessed fierce clashes on Friday, the villages of Sarıncekê and Shexurzê were shelled by Turkish Cobra type helicopters.
CINDIRESE FRONT
The invading Turkish army attacked Cinderêsê district and its villages with howitzers all night long. SDF carried out effective actions and at least one gang member was confirmed killed.
MABETA FRONT
In another action by SDF forces in Mabeta last night, an emplacement of the gangs was destroyed and many from the Turkish army and allied gangs were reportedly killed.
In the village of Xelîl, sabotage actions by SDF fighters left three vehicles, two being armored, destroyed with those in them.
SHERAWA FRONT
In Sherawa district, the village of Bircikê Silamen was targeted by howitzer attacks.