YPG Spokesperson: A new war will be different from the one in Serêkaniyê
Nuri Mehmud stated that Turkey has threatened to launch an attack in order to build a terrorist state in North-East Syria's and said: "This attack will be different from those in Afrin and Serkaniyê. Our forces will defend our people and territories."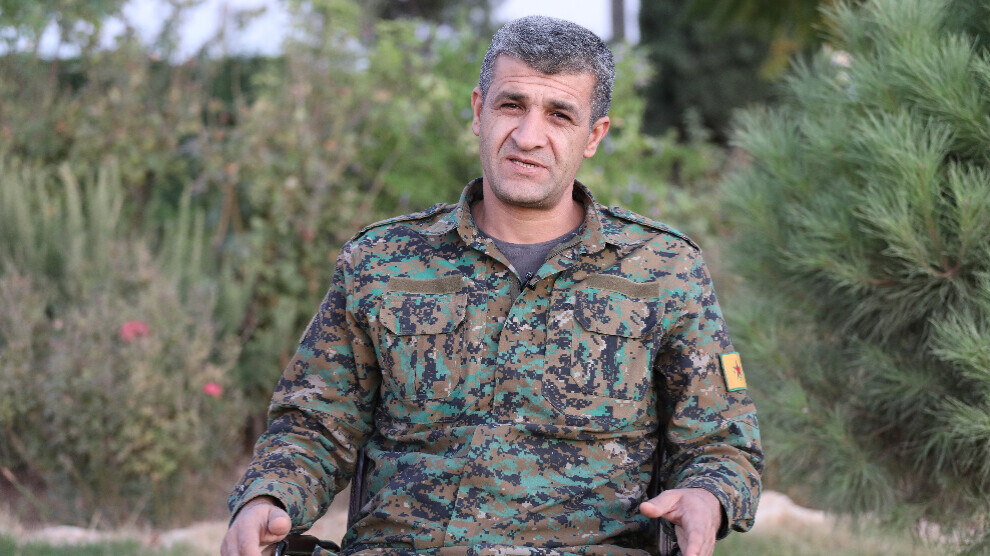 YPG Spokesperson Nuri Mehmud said the Turkish state and mercenary groups such as ISIS, Al-Qaeda, Al Nusra carried out 306 land and air strikes on North-East Syria in 6 months, and that many civilians were killed or injured as a result of these attacks. "We don't attack anywhere. On the contrary, it's the Turkish state who is assaulting our regions. All of this is happening in front of the ceasefire guarantors."
ANF spoke with YPG Spokesperson Nuri Mehmud about the Turkish state's threats to attack North-East Syria, the October 2019 ceasefire agreements, the guarantor countries' views on the violations of the ceasefire, the effects of a possible war, and the defense forces.
The Turkish government has threatened to launch new attacks on North-Eastern Syria. How should these threats be interpreted in light of the ongoing successful struggle against ISIS and concerns regarding Syria's stability?
As it is well known, we defeated ISIS geographically during the revolution. We have recently won significant battles against ISIS's sleeper cells in collaboration with the International Coalition. And I think in particular of the success in Hol Camp... At the same time, we maintain control over jailed ISIS militants. We demonstrated to the rest of the world how to fight and defeat terrorism.
At the same time, we are working hard to ensure Syria's stability. The Autonomous Administration seeks to find a solution for Syria as a whole; negotiations with Russia on this matter take place on a regular basis. However, the expected outcome has yet to be achieved. Just at this moment, Turkish President Tayyip Erdogan and his party are attempting to carry out new attacks based on unfounded charges.
Previously, Turkey was involved in efforts to resurrect ISIS in Hecîn, Baxoz, and Deir ez-Zor during the attacks on Afrin, Serêkaniyê, and Girê Spî. Without a doubt, these initiatives have extended ISIS's life.
Turkish officials state in their warnings that they are being attacked...
Turkish President Tayyip Erdogan and his minister, Hulusi Akar, say that attacks from our region are being launched against them. All of this is false. On the contrary, the Turkish state has launched at least 306 artillery, mortar, howitzer, and plane attacks against Ayn issa, Girê Spî, Til Temir, Zirgan, and other regions in the last six months. The Turkish state and mercenary groups such as ISIS, Al Qaeda, Al Nusra, and the Muslim Brotherhood (Ihvan-i Muslimin) based in the occupied regions carried out 16 strikes from the ground, all of which failed.
In the last six months of attacks, eight civilians (4 children, three women, and one man) have been hurt. Hundreds of families were forced to emigrate at the same time. In September, there were 194 attacks, 5 people were murdered, and 6 civilians were injured. What happened and what the Turkish President and Minister allege are completely contradictory. The Turkish state's attacks on our region continue.
You have provided data indicating that there are attacks on the region. On October 17, 2019, a ceasefire deal was reached with the United States as a guarantor, and on October 22, 2019, with Russia as a guarantor. How do the guarantor countries see the violations of the ceasefire by Turkey?
We are acting in accordance with the ceasefire terms. However, the Turkish government and ISIS-Al-Qaeda residual factions refused to comply. They do it in front of the eyes of Russia and the United States. If we really look at the issue, Tayyip Erdoğan or the AKP-MHP government, which promote chauvinism and jihad, obey neither Turkey's laws, nor international laws, nor do they comply with the NATO alliance or the International Coalition laws. They are breaking all the laws.
Turkey's internal concerns are equally significant. One of them is the economic situation. The government does, however, continue to fund terrorist organizations and cross-border operations. What does Turkey's current government want to do? And what role should the Turkish people play in opposing it?
Erdoğan is attempting to restore the Ottoman sultanate. As you know, we have frequently explained to the international public the current Turkish government's relationships with groups such as ISIS and the Muslim Brotherhood. These organizations can be found in occupied cities such as Afrin, Idlib, Ezaz, and Bab. Abu Bakr Baghdadi was, in fact, personally identified in that locality. The Turkish President aspires to be a regional force.
The Turkish lira and economy have both suffered significantly. In the international arena, Turkish diplomacy has failed. It was defeated in domestic politics. If there is insecurity in Turkey today, it will not be tolerated by the Turkish people.
However, the Turkish President and the chauvinist-jihadist government AKP-MHP are dealing with the internal situation in Turkey through war. As you know, Turkey is fighting in Iraq, there are conflicts from time to time in Armenia, it is the same in Libya, in the Mediterranean, and it has come face to face with Greece. It is trying to invade Cyprus. It is also threatening war in Syria. We see that this government has nothing left but war.
Whose interests would a new war serve? Who will be impacted and how?
This war will not be in either side's best interests. It will not be in the interests of the Turkish people, NATO, the International Coalition, or Russia... Such war preparations are taking place inside the context of Ottoman aspirations and Erdoğan's vision of ruling in the style of a thousand years ago.
With this war, he hopes to extend his life a little longer. Without a doubt, our people and the entire world should understand that this conflict is not in the service of humanity. This is a terror war. The entire world is already talking about Turkish President Erdoğan's aid to terrorism and his positioning which has turned Turkey into a safe haven for the world's deadliest terrorists.
If such a battle occurs today, it will not only be harmful to the Kurds and the people of North-East Syria, but it will also offer hope to all terrorist groups (ISIS-Al-Qaeda-Muslim Brothers). The areas under Turkish occupation supply all of the region's hidden cell structures for ISIS and mercenary groups' moral, logistical, and strategic needs.
ISIS militants and their families who we were forced to house in camps want to go to Erdoğan. There they saw the possibility of re-establishing a terrorist state. That's the current situation. As a result, if this war is fought, we can expect ISIS terrorism to resurface under a different name.
What kind of struggle strategy will you employ in the face of potential attacks?
Our forces will, as usual, operate in accordance with legitimate defense against this crisis. This war won't be similar to the ones fought in Afrin and Serêkaniyê. This time, our forces will act with tenacity against all types of attacks. We have never attacked a location, as the world well knows. However, any attack on our authority and people, any attack aimed at shattering the goal of our revolution and the dreams of our people, our forces would protect these people and lands on the basis of their lawful rights.
The Democratic Autonomy and North-East Syria project is critical for Syria as a whole. This gives hope to the Syrian people as a whole. The Turkish President and his party regard this as an impediment to their rule and intend to attack it. Their goal is to ruin this model and to build a terror organization similar to ISIS under a different name.