'Turkish state wants to empty the region but won't succeed', says Girê Spî Canton deputy co-chair
Girê Spî Canton deputy co-chair, Sabri Nebo, said that the Turkish state wanted to empty the region by spreading fear like ISIS, but it would not be able to do so.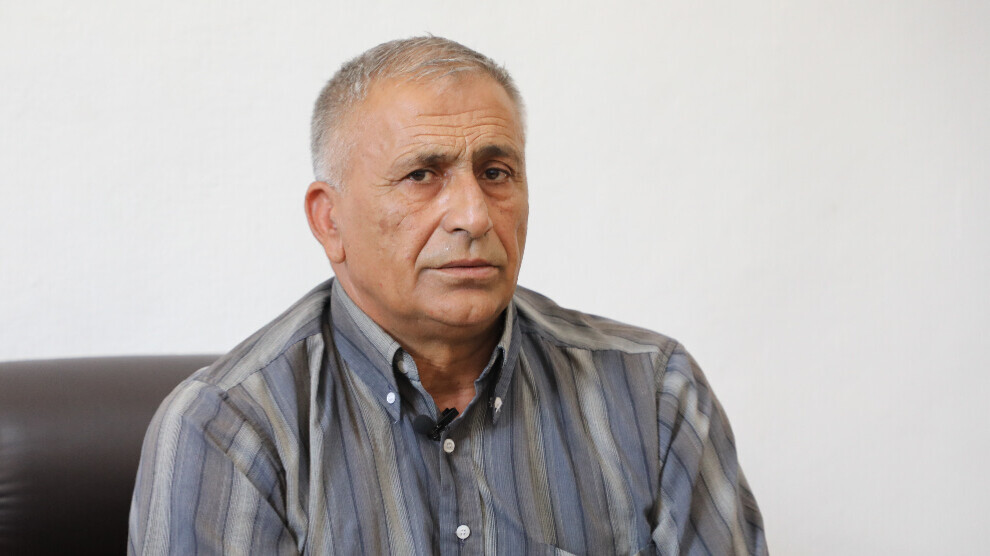 Reconnaissance planes belonging to the Turkish state are flying over Girê Spî 24 hours a day. Canton deputy co-chair, Sabri Nebo, said that cars and houses were shot down, all kinds of weapons were used to force the people of Girê Spi Canton to leave their lands. But the people, said the administrator, have reiterated that they won't leave and they will resist.
The Turkish state continues its attacks against Ain Issa, Girê Spî, Til Temir and Shehba. In the last month, many civilians were harmed in the attacks on the villages of Ain Issa. A family was murdered in the village of Safawiyê. A few days ago, another massacre took place in the village of Dibis. The M4 highway is bombed every day. The villages next to the road are constantly attacked. Turkey is bombing villages far from the border as well as all the villages south of Girê Spî.
Nebo said that the Turkish state is actually developing a genocidal war in front of the whole world. Emphasizing that the main purpose of the Turkish state with attacks and bombardments is to make people leave their places by instilling fear, and thus implement its plan to change the demographic structure of the region more easily, Nebo said: "Turkey is already doing this in the areas it has occupied. Turkey wants to do the same here now. It is a genocidal war against all peoples in the region."
Nebo continued: "The civilians killed in the villages of Safawiyê and Dibis were Arabs. Turkey considers it admissible to kill everyone in order to expand its occupation. Young people, children, women, old people, they are all targets. All this, of course, is happening in front of the world's eyes, and the world remains silent. They are the ones who have already given the green light to the Turkish state to do all these things. Otherwise, the Turkish state would not have been able to carry out such massacres so easily."
People won't leave their land
Stating that the Turkish state thought they could force people to leave their land by instilling fear of ISIS, Nebo said: "The more Turkey attacks villages and homes, the more the people become attached to their lands. In fact, the people insistently want their occupied areas to be liberated. The only thing the people want right now is the liberation of their lands occupied by the Turkish state and its mercenaries as soon as possible."
The public's reactions to these massacres are mostly against Russia, said Nebo, adding: "Russia is the guarantor on the ground. People protested many times in front of the Russian bases here, made press statements and sent delegations. Russia is content to just watch. So far they have not given a concrete answer. They say they are here to prevent Turkey from advancing, but the Turkish state continues to kill people. Russia is silent about it. That's why people say that Russia's presence here doesn't really make any sense."
Nebo added: "People don't have any expectations from anyone. But they are determined to resist and they won't leave their lands. We are able to heal our wounds alone."