Thousands attend demonstration in Qamishlo to protest Turkish use of chemical weapons
Thousands attended the demonstration against Turkish chemical weapons attacks in Qamishlo.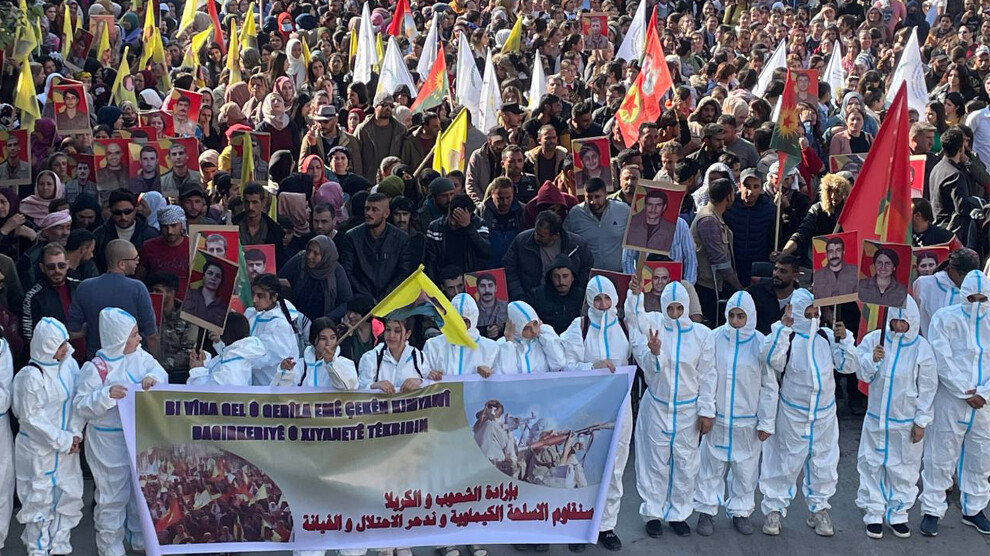 Tens of thousands of citizens from the Qamishlo and Hesekê cantons of the Jazira Region gathered in Siyahi, Ferman Hospital and Qasimo Mosque to join the march. Citizens will go to the March 12 Martyrs Stadium, where the rally will take place.
People have come to Qamishlo since the early hours of the morning from the districts of Derik, Rimêlan, Girkê Legê, Tirbespiyê, Çilaxa, Til Koçer, Til Birak, Til Hemîs, Amude, Qamishlo Sedade, Hol, Temir, Dirbesiyê, Zirgan and Heseklar to attend the rally.
Members of many civil and women's organizations in Northern and Eastern Syria, the Syrian Revolutionary Youth Movement, Young Women's Union, political parties, representatives of the Jazira Region Democratic Autonomous Administration and tribal opinion leaders also took their place in the demonstration.
The crowd frequently shouts slogans such as "Long live the guerrilla resistance", "No to the chemical attacks by the Turkish state", "Long live the resistance of Leader Öcalan" and "No to the Genocide". Likewise, banners reading "Do not be a party to our massacre and the occupation of our lands" were unfurled.
Speeches and a music program will take place at the stadium.