Syrian Future Party launches action in protest at Turkish attacks on North-East Syria
The Aleppo Council of the Syrian Future Party launched a protest in Sheikh Maqsoud neighborhood in order to protest the attacks on Ain Issa and Northern and Eastern Syria regions.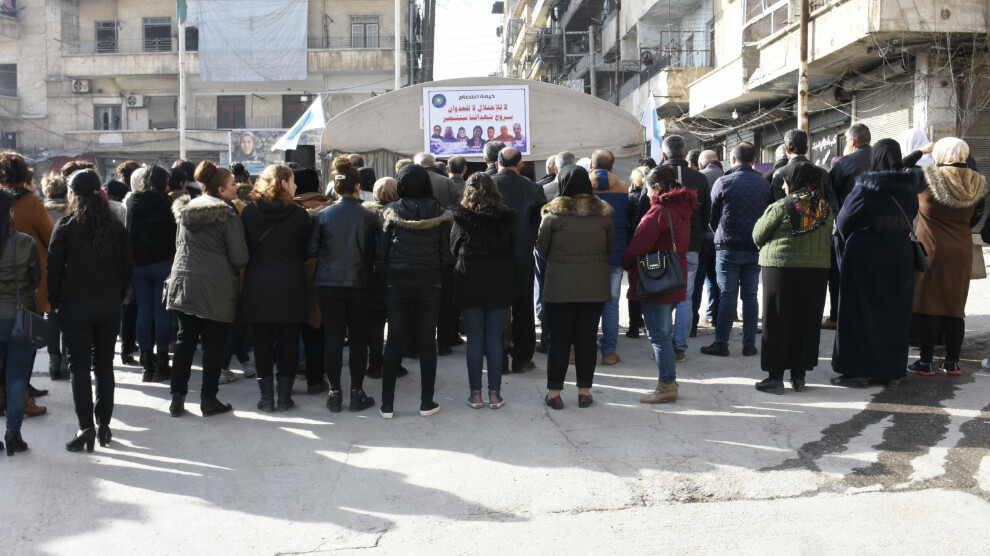 The attacks of the invading Turkish state against the regions of Northern and Eastern Syria, especially Ain Issa, continue. The Aleppo Council of the Syrian Future Party protested the attacks against Ain Issa with a protest they launched in a tent set up in the Sheikh Maqsoud neighborhood.
The tent set up in Martyr Destina Square in the east of the neighborhood was decorated with photos of martyrs who sacrificed their lives defending their people and lands. Dozens of party members and individuals visited the tent on Monday.
Speaking at the action, the head of the Syrian Future Party Aleppo Council, Mihemed Haji Mistefa, drew attention to the policies of the warring parties in Syria, which ignore the hopes of the Syrian peoples and serve the interests of the international and regional powers.
Speaking about the obstacles to solutions, Haci Mistefa said, "On the one hand, the Damascus government and its repressive institutions, on the other hand, the lack of national political projects with the opposition are the reasons for the closure of the ways for a political solution in Syria."
MSD Women's Bureau member Rohêv Ehmed pointed to the importance of working according to the requirements of the unity and the process and condemned Russia's silence in the face of violent attacks.
Rohêv Ehmed emphasized that the invasion dreams of the invading Turkish state will be frustrated thanks to the Syrian Democratic Forces.
Bedran Hemo, a member of the General Assembly of the Democratic Union Party, said, "The attacks on Ain Issa and the Syrian lands are neither the first nor will be the last. These attacks are against the gains we achieved. We have always tried to unite the structures of the Syrian society in order to prevent attacks against all regions of Syria."