Self-Defense Forces fighters killed in Turkish drone attack laid to rest
The five members of the Self-Defense Forces killed in a Turkish drone attack near the northern Syrian town of Amûdê were buried amid great sympathy.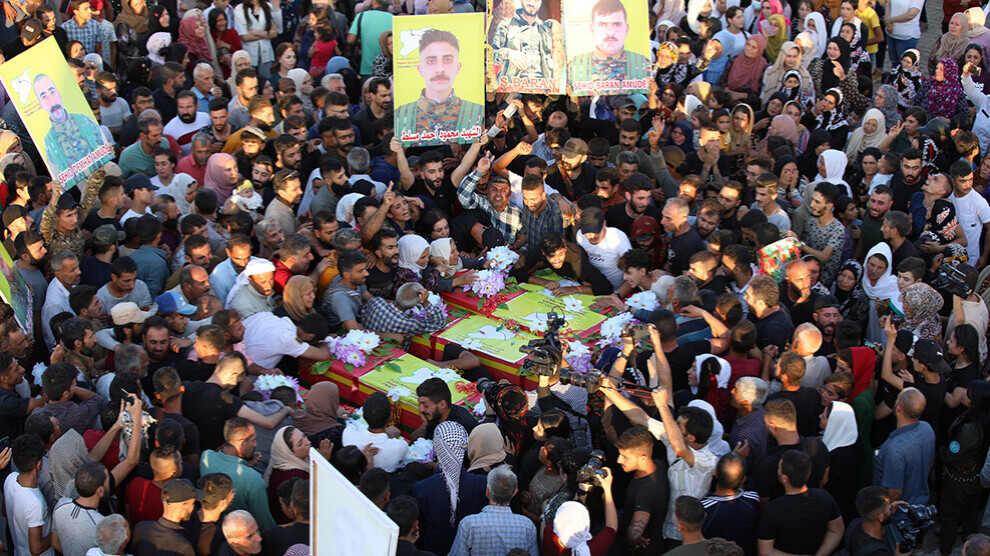 Five fighters of Self-Defense Forces in North and East Syria were killed in a Turkish drone attack near Amûdê on Tuesday. Baran Amûdê (Ahmed Muhammad Qafur, born 2004 in Amûdê), Demhat Amûdê (Saad Rizan Khalil, born 2002 in Amûdê), Şoreş Dirbêsiyê (Maher Rakan al-Makhlif, born 2003 in Qamişlo), Ronî Can (Mahmud Ahmed Muslat, born. 2000 in Amûdê) and Baz Amûdê (Walid Hamid Hami, b. 1999 in Amûdê) were laid to rest on Wednesday at the Şehîd Ismail Cemetery of Martrys in Amûdê with great public participation. A large crowd of people shouldered the coffins of the martyrs, decorated with flags and pictures, while chanting slogans and taking them to their final resting place.
At the cemetery, after a minute of silence, Mihemed Ehmed from the Council of Martyrs' Families in Amûdê took the floor and said: "The resistance and the achievements that have been made in North and East Syria until today are due to the commitment, sacrifices and courage of the martyrs. The enemy wants to take these achievements away from us. Thanks to the struggle of our martyrs, the aggressors could not realise their plans. The enemy is attacking every day before the eyes of the world public. The international coalition pretends to be on our side to put an end to terrorism. This has been going on for seven or eight years, but still the coalition has no compunction when Turkish planes attack our fighters who are fighting against ISIS terror. The coalition, by its silence, is complicit in the massacre of our fighters. As families of the martyrs, we promise to follow the path of the martyrs to victory. We will never submit to the occupation of the Turkish state. The martyrs are immortal."
Berxwedan Amûdê spoke on behalf of the Amûdê Military Council and said: "The Turkish state is intensifying its attacks against us because the guerrillas of the Freedom Movement are dealing heavy blows to it in the mountains of Kurdistan. At the same time, the Afrin Liberation Forces (HRE) are carrying out strong actions, sending revolutionary greetings in the spirit of 15 August. We will follow their path and continue their struggle until the last drop of blood."
Referring to the agents marking targets for the drone attacks, Berxwedan Amûdê said, "However dark the night may be, the agents and collaborators of the enemy among us will be exposed as soon as the day dawns. Their crimes weigh heavily. We once again offer our condolences to the families of the martyrs."
The five martyrs were then laid to rest.