SDF: Turkey aims to destroy stability and security in the region
Turkey's strategy of provocation and deterrence against the autonomous region of North and East Syria is intended to destroy stability and security in the region in the long term, the SDF said after a meeting of their military councils.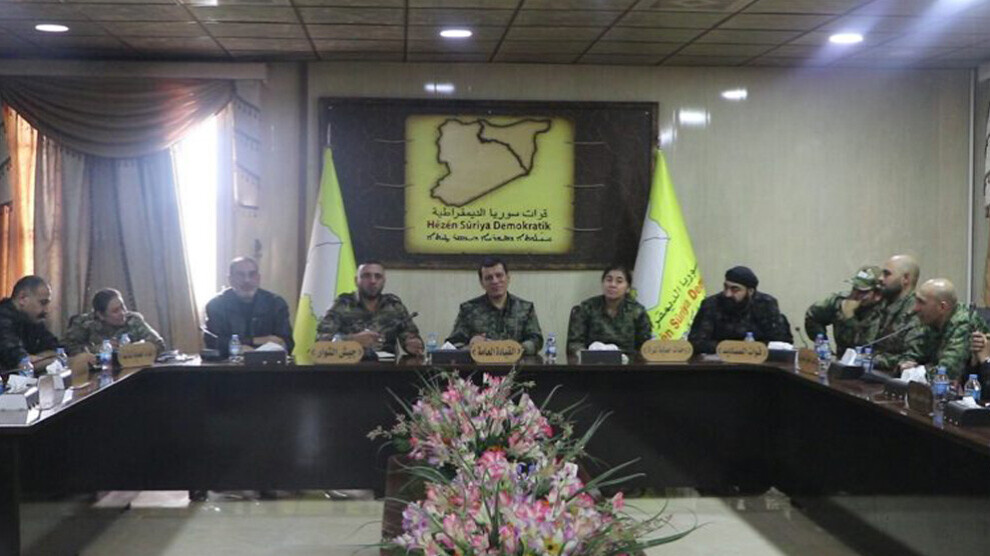 With the participation of all military units of the alliance, the Syrian Democratic Forces (SDF) discussed the current situation in the autonomous region of North and East Syria at a meeting in Hesekê and focused on military and security aspects. The meeting on Monday focused on the Turkish state's expansionist policy. "All associations united under the umbrella of the multi-ethnic SDF alliance share the view that the Turkish strategy of provocation and deterrence is designed to destroy stability and security in the self-governed areas of Syria and beyond in the long term and to crush the Rojava project. In view of ongoing provocative troop movements by the Turkish state and its mercenaries on the front lines, military operations, ongoing aerial surveillance, targeted drone attacks on civilians, and bombardments of villages in the border area, a political solution for the country is more urgent than ever," SDF said.
The SDF remarked that Turkey's aggression against northern and eastern Syria had led to the reactivation of cell structures of ISIS. In this way, it said, Ankara wanted to help ISIS back to territorial control in the region, which had been broken by the SDF in the spring of 2019 as a result of the "Cizîrê Storm" liberation offensive.
Regarding Turkey's new threats to launch another invasion in northeastern Syria, the SDF stated, "The threats and continued attacks of the Turkish state must be taken seriously by all structures. In order to react decisively against a possible new war, preparations and appropriate mobilization must be made."
The meeting also addressed the unwillingness of the government in Damascus to work on a democratic solution for Syria in the interest of all peoples. This refusal recently manifested itself in accusations of separatism against the Autonomous Administration and the SDF. "The government in Damascus does not seem ready for a political solution to the conflict. It is taking advantage of the Turkish state's threats against Syrian territory and the poor economy that the Syrian people are struggling with. At the same time, the government's approach to the crisis in Syria contradicts all logic, objectivity, and national values. Our people should recognize these facts and oppose this repressive policy," SDF said.
"In order to find a solution for Syria that is fair to all components of the population, the SDF intend to continue their cooperation with all relevant forces, including the international anti-ISIS coalition and Russia," it concluded. The meeting also decided to expand the SDF's defense system.