SDF Commander Abdi confirms determination for Kurdish national unity
A constructive solution to the Kurdish question in Rojava is not possible as long as intra-Kurdish conflicts are not resolved. Therefore, all sides should put aside their personal interests, said SDF commander Mazlum Abdi.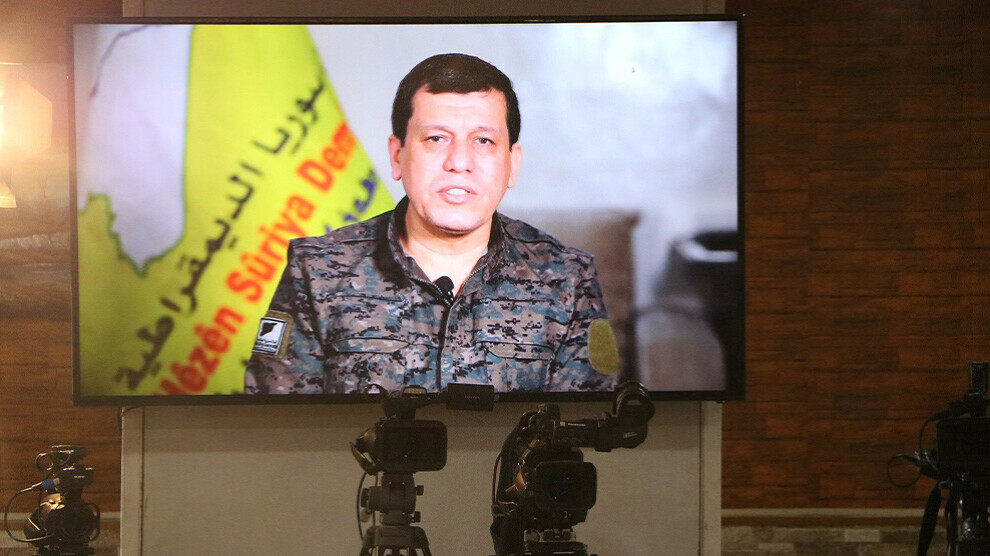 According to the Commander General of the Syrian Democratic Forces (SDF), Mazlum Abdi, there are signs in Rojava that the inter-Kurdish conflicts will end soon. "We cannot see any ideological or political hurdles in front of Kurdish unity. Certainly, there are disagreements and minor conflicts. But if both sides make concessions and compromise, hopes for an early end to the crisis can emerge," Abdi said at a symposium organized in Qamishlo by the Rojava Center for Strategic Studies (NRLS) titled "Kurdish-Kurdish Conflicts, Problems and Solutions."
Talks stalled several times
Since last spring, on the initiative of the SDF and mediated by the U.S. and France, talks have been taking place on unity between the Kurdish parties in Rojava and the ENKS (Kurdish National Council in Syria) which is controlled by the Turkish state. In May, the alliance "Parties for Kurdish National Unity" (PYNK) was founded for this purpose by 25 political parties represented in the Autonomous Administration of North and East Syria. A month later, PYNK and ENKS declared in Qamishlo that consensus had been reached under the 2014 Duhok Agreement (governance, partnership, security and defense). However, after frequent visits to South Kurdistan leadership in Hewlêr (Erbil) and in the Turkish capital Ankara, ENKS rejected mother-tongue education in Kurdish and the gender parity dual leadership system and wanted to impose a division of Rojava. As a result, the talks stalled several times.
Putting personal interests aside
"Even if the war continues and differences could also arise as a result, this should not be an obstacle for Kurdish society in overcoming its existing problems. Let us remember Kurdistan's past, when coexistence was characterized by family groups and tribal struggles. However, these conflicts did not prevent the different parties from uniting in the Kurdish resistance," Abdi said and noted that internal conflicts among Kurds are low compared to other societies. "This speaks to the national consciousness of Kurdistan's political forces and the Kurdish public. We are all aware that the Kurdish question cannot be solved as long as we do not eliminate the conflicts among ourselves. Therefore, we plead for all parties to put aside their personal interests and work exclusively for the interests of our people."
"We are determined"
Mazlum Abdi went on to say that interventions by the "occupiers of Kurdistan" were torpedoing a unification of the various political actors in Rojava, yet there were positive developments in the rapprochement process. "We are on the way to reaching an agreement and we are hopeful that even minor bagatelles will be resolved constructively. Because we are determined to bring this initiative to a successful conclusion."