Revolutionary greetings from Afrin people to Europe
Saturday was a Europe-wide day of action against the occupation of Afrin. People displaced from Afrin who are staying in the northern Syrian canton of Shehba also took to the streets to send greetings to Europe and show that they will not be broken.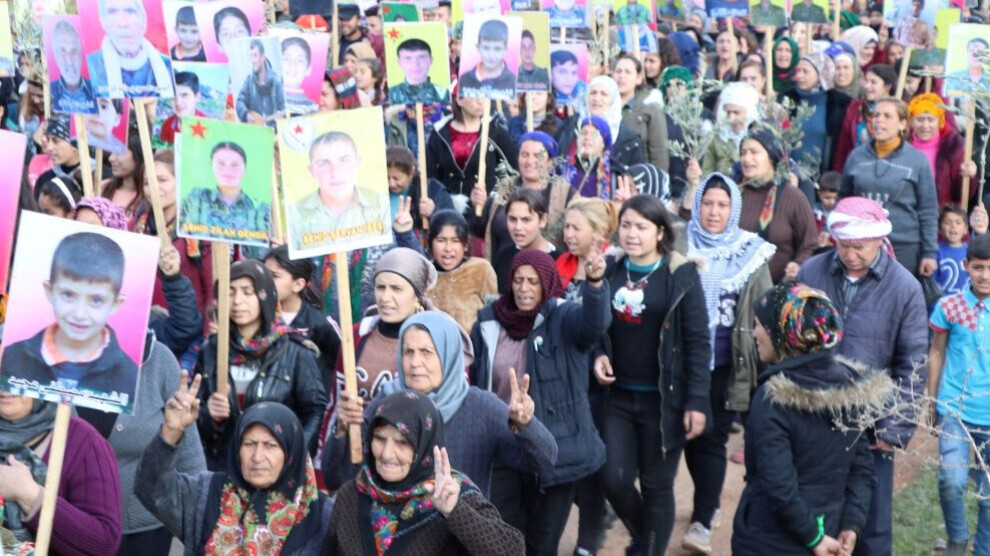 Parallel to the actions for Afrin in Europe, a demonstration also took place in the northern Syrian canton of Shehba on Saturday. Thousands of people who were forced to flee during the Turkish invasion of Afrin three years ago gathered in the district of Ehdas and marched to the Serdem camp with photos of the martyrs from the resistance against the occupation.
Serdem is one of the self-built reception camps in which the displaced people from Afrin have been staying for three years under precarious conditions. Upon the arrival of the demonstrators at the camp, a minute of silence was first held in memory of the martyrs. Afterwards, Mihemed Ebdo gave a speech on behalf of the Afrin Canton Council and said: "We send our revolutionary greetings to the people of Europe who are protesting against the crimes committed by the occupying regime in Afrin. The people of Afrin continue to resist the occupation and the attacks. By doing so, they show the entire public that they will not be broken and that they demand their rights. We call on the Kurdish people around the world to extend the struggle. It is time for freedom!"
In the name of the women's association Kongreya Star, Şêrin Hesen stated that the struggle will continue until Afrin and all other occupied areas are liberated.